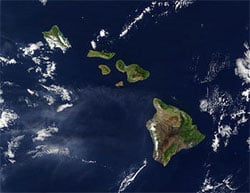 The Hawaii House Committees on Judiciary and Finance have advanced the marriage equality bill, sending the measure to the House floor for a second reading and full vote.
Think Progress adds:
The committees added three amendments to the bill. The first set the start date for December 2, 2013. The second removed section 572-C from the bill, which asserted parents' rights and responsibilities including paternity, maternity, and parentage presumptions based on marriage. Lastly, the committee added religious protections similar to those included in Connecticut's marriage equality law, protecting religious organizations from having to participate in the solemnization of a same-sex marriage.
During the debate, Rep. Bob McDermott (R), who is suing to block the legislature from passing marriage equality, attempted to substitute his own bill proposing a constitutional ban on same-sex marriage, but he was blocked from proceeding. Several other lawmakers attempted to add amendments that would allow businesses to discriminate against same-sex couples, but they were not considered.