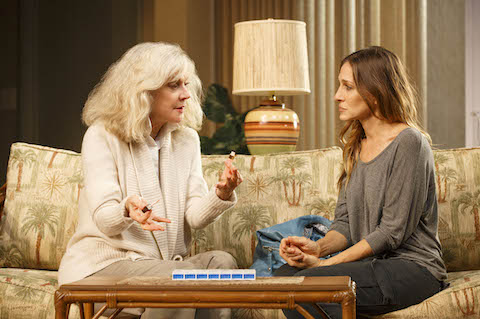 BY NAVEEN KUMAR
Amanda Peet's playwriting debut The Commons of Pensacola, about the wife and daughters of a Bernie Madoff type criminal, opened Off Broadway November 21st in a Manhattan Theatre Club Production directed by Artistic Director Lynne Meadow at New York City Center Stage I. Starring Blythe Danner as the willfully unknowing wife and Sarah Jessica Parker as her somewhat anchorless daughter, Peet's play looks at the fallout of an infamous scandal on the culprit's family.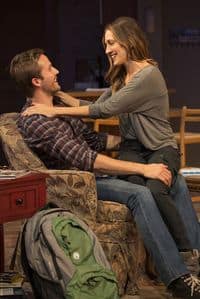 Since losing nearly everything, Judith (Ms. Danner) has relocated to a small condo in Pensacola, where her daughter Becca (Ms. Parker) and Becca's younger boyfriend Gabe (Michael Stahl-David) arrive to spend Thanksgiving—though not without something of an ulterior motive. A struggling actress who babysits for her agent's kids, Becca has decided to team up with Gabe to produce a project meant to give her family's side of events a public hearing, provided Judith agrees to participate.
For reasons unknown at the start, Becca's sister Ali (Ali Marsh), cut off communication with their mother shortly after the family scandal broke. Ali's sassy (and foulmouthed) teenage daughter Lizzy (Zoe Levin) flies down to Florida to spend the holiday with Judith and Becca without telling her mother. Though Lizzy, of course, isn't the only one keeping secrets.
Peet's story unfolds with sufficient intrigue—sexual and financial, but familial above all—to keep the drama interesting and engaging, if not wholly original and always unpredictable. Though its subject is by now familiar territory, the play provides enough dramatic fodder for its stars to demonstrate their command of the stage.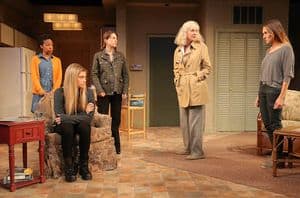 This is particularly true of Ms. Parker, making her return to New York theatre after nearly a decade of dominating the city's portrayal onscreen. While it may be tough to buy that a woman of Parker's not uncertain glamour could be struggling to get noticed in Hollywood, her performance as Becca is both assured and emotionally refined. Her signature qualities as a performer—a certain innate vulnerability, and warm, sometimes goofy charm—are in fine form and a pleasure to see on stage.
These are in many ways Ms. Danner's signature qualities as well, and the two make a well-matched mother-daughter pair. Commons marks something of a reunion for the two, having first performed together in this same theatre in A.R. Gurney's Sylvia in 1995. As the wife of a man who deceived and ruined many (including herself), Danner toes a delicate balance—between rolling with the indignities of aging (including a proportionately large number of fart jokes in the play's swift 80 minutes), and holding on to her own dignity with a sharp wit.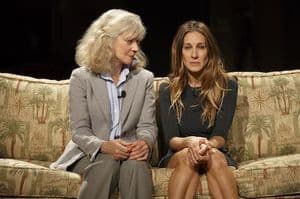 Others in the cast, including Nilaja Sun as Judith's attentive maid, deliver fine supporting performances throughout. But it's when the commotion clears leaving mother and daughter alone to face each other that the play delivers its most powerful moments. In startling emotional outbursts and silent exchanges of intimacy, Becca and Judith ultimately reveal their most guarded truths to stirring results. 
Recent theatre features…