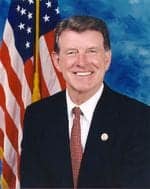 The Ninth Circuit Court of Appeals has granted Idaho Governor Butch Otter's request for a stay of a lower court ruling striking down the state's gay marriage ban, the Statesman reports:
"The district court's May 13, 2014 order is temporarily stayed pending this court's disposition of appellants' emergency motions for a stay pending appeal," declared the 9th U.S. Circuit Court of Appeals in an order released shortly after 1 p.m. Thursday.
The temporary stay will remain in effect until the 9th Circuit Court decides whether to issue a full stay pending appeal.
U.S. Magistrate Judge Candy W. Dale on Tuesday struck down Idaho's 2006 constitutional amendment prohibiting same-sex marriages. Her order was to take effect 9 a.m. Friday.