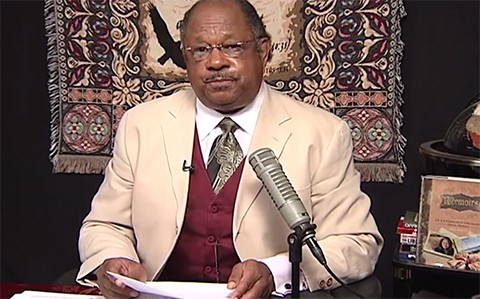 Pastor James David Manning of Harlem's All The Land Anointed Holy (ATLAH) Missionary Church has looked into the future and seen that Vladimir Putin or "someone from within the Russian government" will out President Obama as a gay man within the next 100 days. It is unclear at this time whether Manning used a crystal ball to "prognosticate" this event. Manning's comments were made in a YouTube video, as The Independent reports:
"I want to prognosticate today that 100 days from this very hour… Either Vladimir Putin himself or one of his assistants or someone within the Russian government will call Mr Long-Legged Mac Daddy, will call him an outright gay, pervert, homosexual, sodomite," he alleges in the video below.
"This will happen within 100 days," he said. "We're starting the countdown today. Tomorrow, obviously, will be 99 days before it will actually take place."
Manning has a history of vitriolic and baseless attacks against the LGBT community, advocating for the stoning of gays, suggesting Obama is behind a plot to unleash gay "homo demons" on black men, and deeming "faggot" an acceptable term. He has also alleged that basketball player Reggie Love is the President's secret lover. He made sure to bring up this subject in his latest video, sharing a (clearly imagined) conversation between Love and Obama:
"'Why don't you set the sodomy community – the homosexual mafia – free?'" he claims Love asked Obama. "'Why don't you leave five year old boys and girls free to pursue a sexual identity that is condemned by the Bible?' And the Mac Daddy wouldn't do it."
Most recently, Manning's ATLAH church took to its marquee (one of the church's favorite ways of spreading hate) to yet again condemn gays and all those who support them: "All churches & members that support homos cursed be thou with cancer HIV syphilis stroke madness itch then hell 1 Cor. 6:9" — a very creative if inaccurate translation of Corinthians.
Watch Manning's prognostication on Obama's big coming out, AFTER THE JUMP…