BY OCCUPY THE DISCO / JOSH APPELBAUM
Triphop is an often-forgotten subgenre of dance music that fuses breakbeats, soul, funk, and jazz influences.  Artists like Massive Attack and Tricky have established careers by infusing this genre into their production for artists like Bjork, Madonna, and Everything But The Girl.  Moko is a newcomer to the music industry, breaking through in the UK last year by performing with Neneh Cherry on Boiler Room TV and subsequently signing to MTA records in July 2013. 
Moko: 'Ceremony'
The London native got her start singing in church, and spent some time singing in London Community Gospel Choir before finishing university.  'Ceremony' is the second single from her forthcoming sophomore EP, Gold.  Despite being a newcomer, Moko sounds like a seasoned professional, with rich vocals that complement the ebbs and flows of the song's beats.  Her career is set to blow up in the coming months, so be on the watch out for her!
Another banger from Moko, and more new tracks, AFTER THE JUMP…
Moko's first single off the forthcoming Gold EP, 'Your Love', is 90s-infused club banger.  Gotsome, famous for their 2014 dance hit 'Bassline,' have remixed the track with a pulsing house backing.
Brooklyn-via-Alabama resident Aman Ellis, aka Aimes, has teamed up with fellow New York vocalist Javi for 'Burnin,' a nu disco track that certainly burns up the dance floor.
Them Jeans has remixed Gorgon City's 'Here For You', originally a more downtempo, rhythmic track (featuring Laura Welsh's vocals) into a high energy house jam.
Many of you are probably familiar with Rouge Mary's voice, featured on Hercules and Love Affair's new album Feast of the Broken Heart.  This gender-nonconforming baritone gospel vocalist has teamed up with producer Mason on 'Gotta Have You Back,' which comes packaged with this beautiful, piano-laden deep house remix courtesy of Kraak & Smaak.
Out vocalist Sam Smith has made quite an impact with his debut album, In The Lonely Hour, which hit #2 on the US Billboard albums charts earlier this year.  Armand van Helden has remixed Sam's next single, 'I'm Not The Only One,' keeping intact Sam's skillful vocals alongside a healthy dance beat.
WEEKEND CALENDAR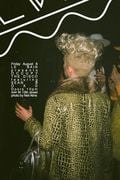 Our night time occupation of Le Bain at the Standard, High Line in NYC is back this Friday August 8th.  We're joining with Spank! and Xanadude DJ Sean B for a night of decidedly gay disco and house music at this famous NYC space.  More info is available on our site.
The OXD Mirror is a weekly music column brought to you by the boys of OCCUPY THE DISCO (OXD), a New York City based collective created by three music lovers, Ru Bhatt, Josh Appelbaum, and Tad Haes, who want to share their love for disco, house and dance music with the world.   
OCCUPY THE DISCO (OXD) curates and recommends music events to the gay community in NYC—in an effort to move the focus of the nightlife scene beyond the promoter and venue and to the music itself. OXD's goal is to educate, entertain, engage and empower the gay audience to reclaim their ability to question and experience the unknown. The OXD Mirror will serve to showcase tunes that are definitely off-the-beaten-path but rightfully deserve the attention of the gay ear. 
Be sure to check out these tracks and more on our Spotify Playlist. For more information on OXD, check out our website and accompanying blog at www.occupythedisco.com, like us on Facebook, or follow us on Twitter: @OccupyTheDisco.