Concerns are mounting in Egypt that authorities will use new online monitoring software to hunt down LGBT people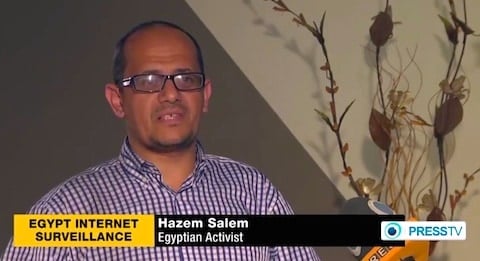 Concerns are mounting in Egypt that authorities will use new online monitoring software to hunt down LGBT people, reports Buzzfeed.
Earlier this month, Egyptian authorities arrested nine men for "debauchery" but later concluded that "the men tested negative for homosexuality."
Using U.S. technology, Egypt is now monitoring online communications, giving the government an unprecedented ability to comb through data from Skype, Facebook, Twitter, YouTube, WhatsApp and Viber.
In recent weeks, Egypt's LGBT community has issued warnings to avoid using Grindr after rumors spread that officials were using the app to arrest gay men.
Although Egyptian officials have said their monitoring of online activity will focus on preventing terrorist attacks, one Interior Ministry official said the current mandate was "much broader":
"We are looking at any conversation, any interaction, we might find worrying or would want to keep a closer eye on. We are watching conversations between Islamists, or those who discuss Islamism. We are watching communities, which we consider at risk."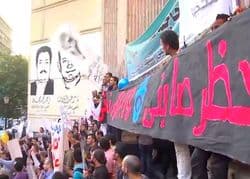 The official went on to say that those taking part in "debauchery" or "homosexual acts" would be watched "for the protection of Egypt."
He added that although he wasn't familiar with Grindr, there were "dozens of Facebook groups" used by the LGBT community that are being watched.
Gen. Hany Abd el Lateef, a spokesman for Egypt's Interior Ministry, denied that the government plans to monitor citizens' private lives.  
However, a copy of the tenders issued by the Interior Ministry which specifies the type of online communications it will be searching for suggests otherwise.  The list includes:
Blasphemy and skepticism in religions
Spreading of rumors and intentional twisting of facts
Sarcasm
Pornography, looseness, and lack of morality
Providing the service to the Egyptian government, See Egypt is the sister company of the U.S.-based Blue Coat.
Security of #LGBT people and others at risk in #Egypt – 'See Egypt' helping govt spy on citizens http://t.co/lUtejjhMf4

— Front Line Defenders (@FrontLineHRD) September 18, 2014
Ali Miniesy, the CEO of See Egypt, said that the company had been contracted to provide Egypt's State Security with the system, and to teach officials how to comb through data gathered from email accounts and social media sites.
He added that although the software can be used to penetrate social media and other software, it is a system similar to that used by most Western governments, including the United States.
According to Eva Blum-Dumontet, an advocacy officer with the U.K.-based NGO Privacy International:
"This new software makes it very easy to target anyone, en masse. The user simply says, 'I want to look for atheists, or homosexuals,' and the company gets all the data. It's extremely easy.
"There is a difference between what you do on social media and what you do in the real world. The concern is that people who are not necessarily our protesting would suddenly be on the radar of the Egyptian authorities because they liked a status on Facebook or retweeted something."
Egyptian Human Rights groups filed a lawsuit on June 17 alleging that the system used by Egypt "threatens private life and public freedom."  However, the lawsuit could take years to work its way through the courts, and in the meantime the See Egypt technology will continue to be used.
Watch a report on this story, AFTER THE JUMP…