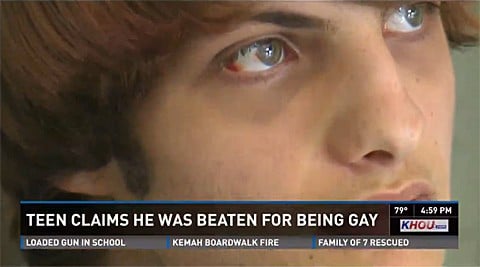 Dylan Beard, a gay Houston teen, was ambushed and beaten in a planned hate crime by his peers, KHOU reports:
Dylan Beard says he lost his sense of security. His friends told him to meet him at Jenkins Park in Baytown, only to get jumped.
"It's tough being gay. It's tough. Because we are out of the norm I guess. They lured me indirectly. They had one of their friends, who I'm also friends with, tell me to come up there and they walked up and did it," said Beard.
Dylan says a girl started hitting him.
"Then two of her friends who are guys jumped in and they all started hitting me, got on the ground hit me and punched me," said Beard.
The teens posted the attack on Facebook, where Beard's mother saw it before he got home.
"His face was swelled, his nose was broken, he bit through his tongue, his bottom teeth were chipped, his knees were scabbed everywhere." said Jennifer Beard, the victim's mother.
KHOU reports that police are releasing very little information about the case except that the girl is facing an assault charge.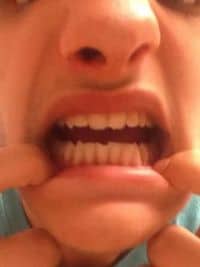 The Houston Chronicle reports that Beard was called a "faggot" and a "booty lover" by his attackers and an activist is calling for the FBI to step in:
The Baytown Police Department's lack of response to the assault prompted activist Quanell X to hold a press conference Thursday, claiming they have been negligent in the case by allegedly ignoring witnesses, refusing statements and openly insulting Beard, all because he is gay. They've also filed a hate crime complaint with the FBI.
"It doesn't make you a man, it doesn't make you a tough guy, it doesn't make you some real person to be proud of because you want to prey on a little kid because he's gay. Why don't you pick on somebody your own size? Why won't you pick on some men who you know will fight you back?" said the activist, gesturing to Beard's bruised eye and chipped tooth. "This little kid does not deserve to be treated like this. Whether you agree or disagree with his sexual orientation, or not, it does not give anyone the right to treat him like he's less than a human being and rob him of his human and civil rights."
Watch KHOU's report, AFTER THE JUMP…