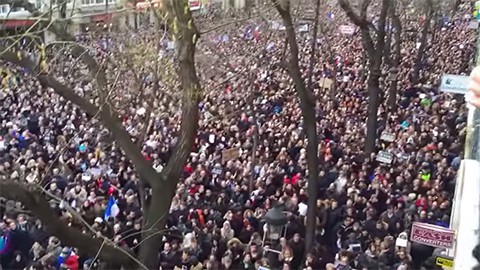 At a unity rally in Paris held to show national solidarity in the wake of the recent terrorist attacks in France, thousands burst into singing John Lennon's "Imagine", Mashable reports:
[Redditor] ilHGG, who claims to live near the location of the march, wrote on Reddit that he or she played music, "especially peace songs," from his or her window, so passersby participating in the march could hear.
The poster of the video on YouTube commented,
"As no one could advance, my neighbor opened her windows and started to play classic tunes, to the delight of the audience. A great moment."
The rally in Paris combine with those held across France drew crowds of 3.7 million people, according to CNN.
Meanwhile, President Obama came under criticism for not attending the rally which saw a broad swath of world leaders in attendance including German Chancellor Angela Merkel, British Prime Minister David Cameron, Israeli Prime Minister Benjamin Netanyahu, and Palestinian Authority President Mahmoud Abbas. As The Washington Post reports, White House Press Secretary Josh Earnest commented, "I think it's fair to say that we should have sent someone with a higher profile." The U.S. was represented at the rally by Ambassador to France Jane Hartley. 
Sen. Marco Rubio (R-Fla) said of the President's absence, 
"I understand that when the president travels, he brings with him a security and communications package which is intense. And I understand you drop that into the middle of something like this, it could be disruptive," Rubio said. "There's a plethora of people they could have sent. I think in hindsight I hope that they would have done it differently."
For his part, Secretary of State John Kerry called the hullabaloo surrounding the President's absence, "quibbling a little bit." 
In Paris, however, President Obama's absence was hardly felt, with many dubious of the presence of foreign leaders to begin with:
"I consider these heads of state to be taking part in my march," said Thierry, a 56-year-old painter, who declined to give his last name because of fears of terrorism. "I'm not taking part in theirs."
Watch the video of the attendees singing "Imagine", AFTER THE JUMP…