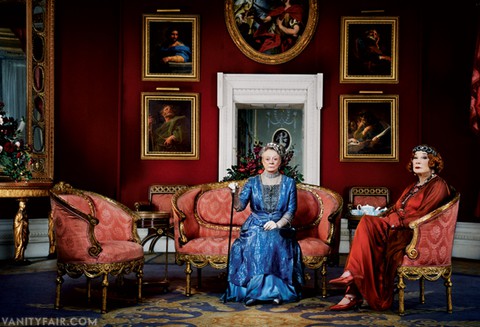 Rep. Aaron Schock's new office decor is inspired by the red room from the UK drama Downton Abbey, reports Ben Terris, hilariously, at the Washington Post.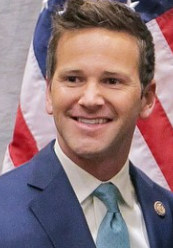 But drama of another kind erupted when Terris went to the office and began being shown around. Word got out to Schock's communications director, Benjamin Cole, who demanded to know why he was looking at the decor:
"Are you taking pictures of the office?" he asked. "Who told you you could do that? . . . Okay, stay where you are. You've created a bit of a crisis in the office."
A staff member then came and asked me to please delete the photos from my phone.
Terris was being shown around by the interior decorator herself, Annie Brahler, "whose company is called Euro Trash."
Terris adds that although it has "bright red walls…A gold-colored wall sconce with black candles….a federal-style bull's-eye mirror with an eagle perched on top…a drippy crystal chandelier, a table propped up by two eagles, a bust of Abraham Lincoln and massive arrangements of pheasant feathers," it's not an exact replica of the Downton room but just "takes inspiration" from it, according to Brahler.
"I guess because he's fresh-minded and forward-thinking, he's not hung up on doing things the same way as everyone else," Brahler said. "It's gotten to where he's comfortable with everything I do."
Except, perhaps, when she gives a tour of his office to a journalist.
Of course, Schock's maverick style has come out before. In June 2010, a photo of Schock at a White House picnic in white jeans, an aqua belt, and purple gingham shirt posted by Gawker sent rumors he is gay into overdrive. Schock later tweeted that he "burned the belt" after the photo went viral.
And Schock isn't the first Republican to worship Downton. Rep. Michelle Bachmann and her family posed like the Crawley clan for a Christmas card in 2014 that they called 'Bachmann Abbey' on Facebook.
But Schock doesn't want to be so public about his Downton worship, or showing outsiders his office. Perhaps he's worried about what reporters might find in the office closets?
The big question is, Does Aaron Schock play make-believe that he's in #downtonabbey & which character is he? http://t.co/daVoUzkKcv

— Mike Signorile (@MSignorile) February 3, 2015
(top image vanity fair)