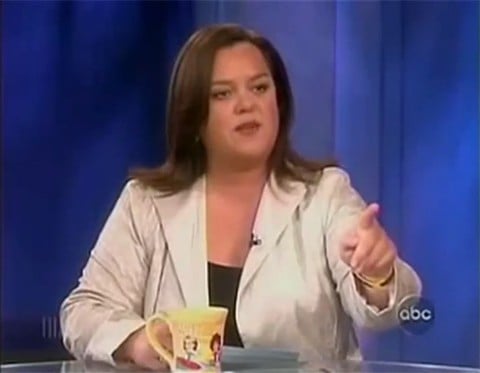 Rosie O'Donnell is leaving ABC's daytime talk show The View for the second time, Variety reports:
"I can confirm that Rosie and her wife Michelle split in November. Rosie has teens and an infant at home that need her attention," O'Donnell's rep, Cindi Berger, said in a statement. "This has been a very stressful situation. She is putting her personal health and family first. ABC has been wonderfully understanding and supportive of her personal decision to leave 'The View.' Next week will be her last."
"The View" has been in a state of turmoil since last May when founding anchor Barbara Walters signed off of the roundtable 11 a.m. talker and Jenny McCarthy and Sherri Shepherd also left the panel. O'Donnell was recruited back to the show, which she co-hosted in the 2006-07 with much turmoil behind the scenes, along with newcomers Rosie Perez and Nicolle Wallace. Whoopi Goldberg, the show's moderator and only returning member of the panel this season, is said to have butted heads with O'Donnell behind the scenes, as well as on-air.
Sources close to the situation said O'Donnell had been struggling with the stress related to her divorce as well as the pressure on "The View" set. The show's lineup opened strongly in the ratings in September but viewership quickly tailed off. There has been much discussion at ABC about making further changes or additions among the hosts. Sources close to the situation suggested that O'Donnell decided to jump, citing her personal reasons, before she had to face the prospect of getting pushed.
Said ABC in a statement:
Rosie is an immensely talented star who comes in each and every morning brimming with ideas, excitement and passion for the show. When she told us she wanted to exit 'The View,' we respected and understood her desire to put her well-being and her family first. We're delighted she's still part of the ABC family with upcoming guest appearances on 'The Fosters,' and we know she'll return to 'The View' often with her unique point of view and updates on her work and her family.
Watch some of O'Donnell's more memorable (and heated) moments from the show, AFTER THE JUMP…