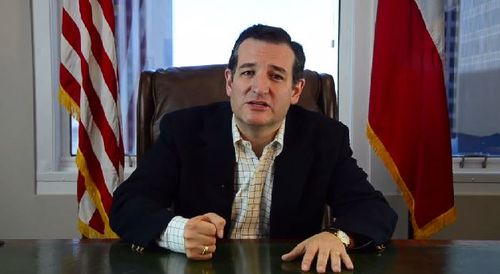 Facing intense competition for the anti-gay vote, U.S. Sen. Ted Cruz, R-Texas, is aiming to set himself apart from the rest of the 2016 GOP presidential field. 
The Republican Primary promises to feature a healthy crop of truly formidable homophobes, from Rick Santorum to Mike Huckabee to Bobby Jindal to Ben Carson. 
But in a speech on Monday in Iowa, Cruz laid claim to the notion that he may be the No. 1 opponent of same-sex marriage. From The Des Moines Register: 
Cruz, R-Texas, described the ongoing shift toward legal recognition for gay couples as an "unrelenting assault on traditional marriage," and castigated judges who have struck down prohibitions for "ignoring their oaths, ignoring the Constitution and legislating from the bench."

The issue is one that Cruz said distinguishes him from other potential candidates in what looks to be a crowded 2016 presidential field. While others have de-emphasized or dropped altogether their opposition to same-sex marriage, he said, he would continue to make it a priority.

Cruz delivered his speech to a crowd of about 200 Iowa religious leaders and their spouses behind closed doors in a hotel ballroom in Des Moines. Although the American Renewal Project's "Pastors and Pews" event was closed to the press, reporters were able to hear and record Cruz's remarks from the corridor outside.
Cruz went on to call President Barack Obama "an apologist for radical Islamic terrorism." Also attending the event was Cruz's whacko father, Rafael Cruz, and it reportedly ended with attendees "laying hands" on the senator for an extended period. 
While it's truly scary that he's a US senator, let alone a presidential candidate, we're not going to argue with Cruz's claim about marriage, even though Huckabee or Santorum might have something to say. After all, Cruz is the author of legislation that would strip federal benefits from same-sex couples who live in states that don't recognize same-sex marriage, and he plans to introduce a federal marriage amendment later this year. 
The question is, while it may play well with social conservatives in Iowa, where Santorum won in 2012, will the anti-gay marriage card work in other early primary states like Nevada and New Hampshire, especially if the U.S. Supreme Court delivers nationwide marriage equality in June? Or will Cruz's campaign ultimately fizzle because he happens to be a total nutjob? 
For a look at what the other GOP presidential hopefuls have said about marriage, check out this recent report from CNN.