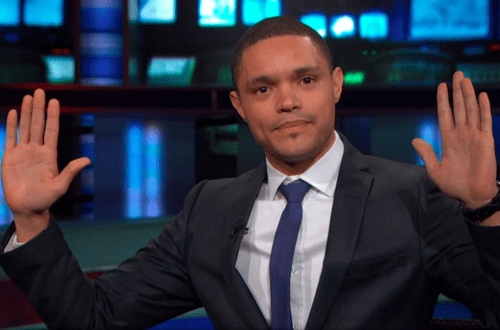 Comedy Central has come out in support of its Daily Show successor Trevor Noah following a wave of public criticism in response to a handful of the comedian's resurfaced tweets. Comedy Central caught fans of its popular satirical news show off guard earlier this week when it announced that Noah, a young South African comedian, would be replacing Jon Stewart in the hosting chair later on this fall. Though Noah contributed to the show in the past, his landing the gig surprised many, but was initially met with congratulations from big-name comics like Chris Rock.
As people began to delve into Noah's past in the hours following the announcement, the pendulum began to swing in the other direction. Noah's been a Twitter user since 2009 and in the time since then he's made his fair share of questionable tweets. In particular a number of his tweets making jokes about women and Jewish people have drawn public scorn, prompting many to question why Comedy Central didn't vet him more thoroughly.
Almost bumped a Jewish kid crossing the road. He didn't look b4 crossing but I still would hav felt so bad in my german car!

— Trevor Noah (@Trevornoah) September 18, 2009
South Africans know how to recycle like israel knows how to be peaceful.

— Trevor Noah (@Trevornoah) June 2, 2010
Noah quickly responded via Twitter, imploring people not to judge by a small selection of his tweets that–while offensive–were meant as jokes.
"Like many comedians, Trevor Noah pushes boundaries; he is provocative and spares no one, himself included," a Comedy Central representative shared in a statement. "To judge him or his comedy based on a handful of jokes is unfair. Trevor is a talented comedian with a bright future at Comedy Central."
For all the outrage leveled at Noah for his old jokes, there were some critics who were unsurprised at the tone of his humor. Writing for the Washington Post Wendy Todd points out that the bulk of Noah's non-Daily Show material has revolved around lampooning race to varying degrees of success. In particular, Todd notes, Noah's known for his critical commentary about black American culture that, for some, comes across as stereotypical and hostile.
Listen to Wendy Todd's analysis of Trevor Noah in a panel hosted by Don Lemon AFTER THE JUMP…
(h/t Mediaite)