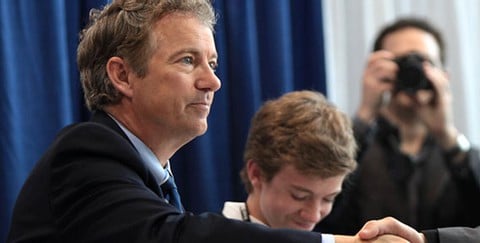 Senator Rand Paul (R-KY) threw his hat into the ring of Republican 2016 candidates on Tuesday before a rally in Louisville this morning, announcing on his website:
"I am running for president to return our country to the principles of liberty and limited government."
Paul also posted a video message featuring his wife.
Watch, AFTER THE JUMP…
A video posted yesterday advertised Paul as "a different kind of Republican leader."
Last month, Paul told religious leaders at a prayer breakfast that the debate over same-sex marriage is the result of a "moral crisis" in America:
"Don't always look to Washington to solve anything. In fact, the moral crisis we have in our country, there is a role for us trying to figure out things like marriage, there's also a moral crisis that allows people to think that there would be some sort of other marriage."
He also said that calling same-sex unions "marriage" very much "offends" him and others. At one point he linked it with polygamy and 'non-human' marriage. When asked if one day he'll support it, Paul recently shrugged.
He called a federal judge's ruling which said Kentucky must recognize same-sex marriages performed outside the state "illegitimate".
He was a longtime member of an AIDS-denialist medical group.