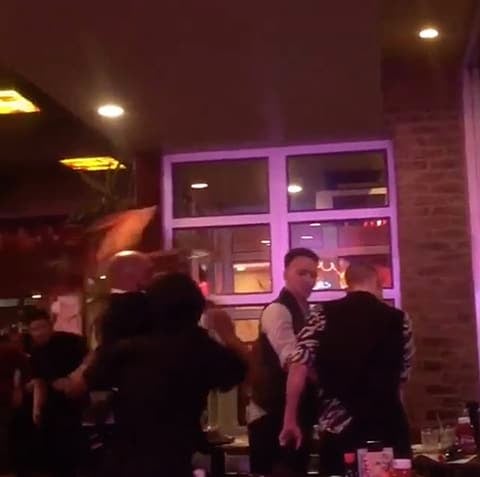 A man was captured on film violently beating a gay couple over the head with a chair inside the Dallas BBQ restaurant on 8th Avenue and 23rd Street in Manhattan's Chelsea neighborhood after an altercation in which homophobic slurs were used.
Watch the full video of the brutal attack, AFTER THE JUMP…
DNA Info reports:
Disturbing video shows Ethan York-Adams, 25, putting his arm around his boyfriend, Snipes, as another man comes up and cracks the chair over their heads, about 11:10 p.m. inside the restaurant at 261 Eighth Ave., NYPD officials said.
York-Adams falls to the floor and Snipes slumps into a nearby chair, visibly dazed.
Both men refused medical attention, officials said. Snipes, who was injured in a prolonged beating that preceded the video, didn't want to spend the money on an ambulance trip to the hospital because he's recently unemployed, he said.
The NYPD says the incident is being investigated as a hate crime.
The incident began after one of the men had to leave the restaurant after receiving a text about a death in his family and accidentally knocked over a drink.
Another male patron then made the comment 'White f—-ts, spilling drinks' before the physical attacks began. The attackers fled the scene and have not been arrested.
Snipes was kicked in the face and spine, had teeth knocked loose, and may have suffered a concussion. He told DNA Info:
"These guys attacked us specifically because they knew we weren't their type of people."
The NY Daily News adds that a friend of the couple said of the attacker: "He was calling them faggots all night. It's disgusting."
Watch the full video of the brutal attack, AFTER THE JUMP…