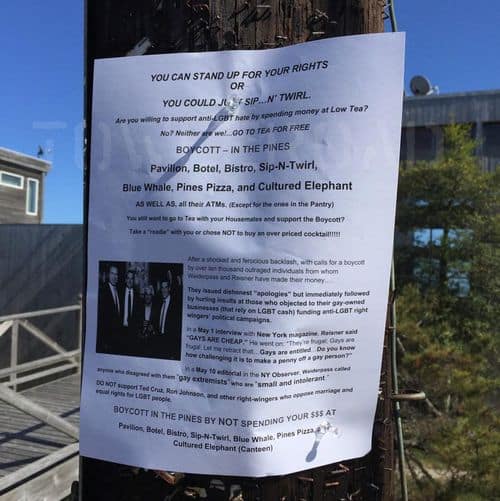 A Towleroad tipster sends along this photo of signs currently posted in Fire Island Pines urging a boycott of the Pavilion, Botel, Bistro, Sip-N-Twirl, Blue Whale, Pines Pizza, and the Cultured Elephant.
The boycott picked up steam this week after the New York Times revealed that Ian Reisner, the owner of the businesses as well as the OUT NYC hotel, lied about cutting a campaign check to ultra-conservative and anti-LGBT candidate Ted Cruz around the time Reisner and his business partner Mati Weiderpass hosted a reception for Cruz in their Manhattan penthouse. Reisner did, in fact, cut a check for $2,700, the maximum individual contribution allowed.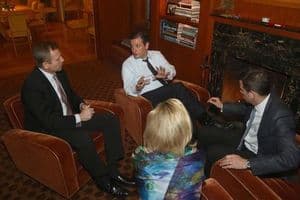 Since news of the reception broke Reisner and Weiderpass had been telling a different tale.
"There were no checks given, it was nothing like that," Reisner told New York magazine .
Wrote Weiderpass in an op-ed for the New York Observer denouncing "gay extremists" objecting to his reception for Cruz: "It is amazing that my businesses are being boycotted by some because I hosted a discussion with an elected official. Not a fundraiser. Not an endorsement. A dialogue…Despite media reports to the contrary, I did not organize the Cruz dinner, but did embrace the opportunity—again, in a non-fundraising setting—to discuss a number of important issues, including support for Israel and support for gay rights."*
Since the Reisner-Weiderpass reception, Ted Cruz has declared that marriage equality is the "greatest threat" to religious freedom ever, has pledged to "always, always, always" defend Christians' right to discriminate against gays in the name of religious freedom and decried the encroachment of "mandatory gay marriage."
In other news, Cruz's father recently told attendees at an event in Texas that staying silent on "evil" gay marriage would be like ignoring Nazi Germany.
*In the original NYT article that broke the story, the paper noted Cruz "did not mention his opposition to same-sex marriage, saying only that marriage is an issue that should be left to the states."