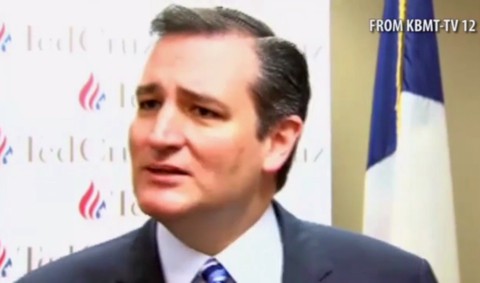 Sen. Ted Cruz claims the Democratic Party is trying to impose "mandatory gay marriage" on America at the expense of religious freedom, and says recent backlash over anti-LGBT laws in Arkansas and Indiana was "heartbreaking." 
Cruz first made the comments at the "Watchmen on the Wall" conference sponsored by the Family Research Council, an anti-LGBT hate group, in Washington on Thursday. Cruz spoke immediately after Wayne Grudem, a theology professor known for his views that men have spiritual leadership over women, and who told the crowd that FRC President Tony Perkins is a modern-day Dr. Martin Luther King Jr. 
Time reports:  
"The modern Democratic Party has become so radical, so extreme, that they have determined that their devotion to mandatory gay marriage in all 50 states trumps any allegiance to religious liberty under the First Amendment," Cruz told the ballroom. "We've got an obligation, as this conference recognizes, to be watchmen on the wall." … 

In his remarks, Ted Cruz portrayed religion in America as under "assault" and referenced "heartbreaking" religious freedom battles in Indiana and Arkansas, where state lawmakers backed down from laws that critics said would allow discrimination against gays and lesbians.
Cruz made similar statements on Friday during an interview with conservative radio host Eric Metaxas, according to a report from The Houston Chronicle:
"We are seeing today profound threats to religious liberty in America, the greatest threats we've ever seen and just a couple of months ago we had the battles in Indiana and Arkansas when they passed their religious freedom restoration acts," Cruz said. "What happened afterwards was heartbreaking. We saw, number one, a perfect storm of the modern Democratic Party that has gotten so radical and so extreme in its devotion to mandatory gay marriage that they've decided there's no room for the religious liberty protected under the First Amendment. And sadly Democrats joined with big business in an effort to vilify our religious liberty. But what was most striking is how many Republicans, including Republicans running for president in 2016, ran and hid in the hills, were afraid to stand and be counted. I think that Indiana and Arkansas, as Reagan put it, were a time for choosing, that was a sorting moment."
Meanwhile, video has surfaced of an incident we told you about earlier in the week, in which Cruz got into a testy exchange with reporters about gay marriage during a visit to Beaumont, Texas. 
Watch the clip from KBMT-TV, AFTER THE JUMP …