Bryan Fischer has attacked Vanity Fair's "morally twisted" Caitlyn Jenner cover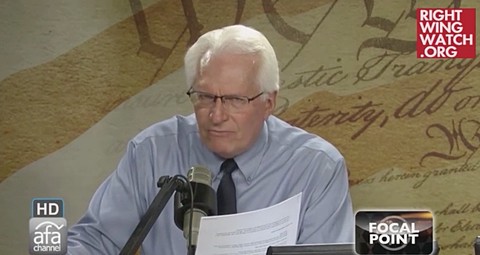 Given that he's usually so level-headed and easygoing, you might be surprised to learn that old reliable Bryan Fischer has some very unpleasant things to say about Caitlyn Jenner's Vanity Fair cover, as Right Wing Watch reports.
Speaking on his Focal Point radio show yesterday, Fischer said:
"If you want one snapshot of just how corrupt, how morally corrupt, how morally bent, how morally twisted, how morally confused, how morally bankrupt we have become, all you've got to do is take a look at the cover of Vanity Fair magazine.

"My heart, frankly, goes out to Bruce Jenner. I'm not going to call him Caitlyn Jenner because that's not his name and I'm not going to refer to him as a she. He's a he. He's a he in every single solitary cell of his body, he will be until the day that God calls him home. So he's a male in every single cell of his body, so he's always going to be a he in the terminology that I'm going to use. I'm never going to refer to him as a she because that would be a lie."
Masking his hate behind "concern" for Jenner's health, Fischer goes on (and on):
"Those of us that are saying this is not a good thing, those of us that are saying this is bad for Bruce Jenner, bad for his future, we are showing far more compassion to him than the editors of Vanity Fair.

"They are showing no compassion for him, no genuine care for him because they are celebrating his progress down a pathway that could lead him to kill himself. I would suggest to you that there is absolutely zero compassion, zero love in aiding and abetting someone's mental illness, a mental illness that could drive them to self-destruction."
Last month, Fischer said that the Boy Scouts will become "gay pedophile scouting for boys" if the ban on gay adults is lifted.
Watch, AFTER THE JUMP…