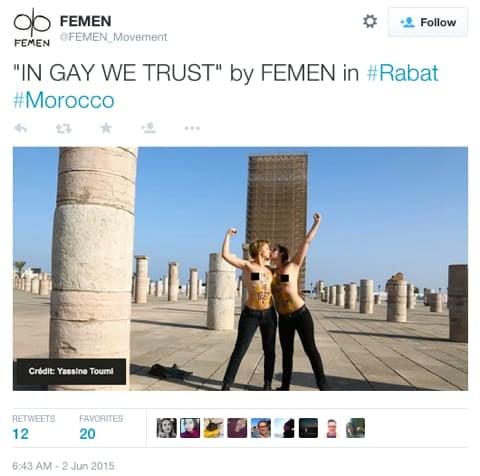 Two Moroccan men were sentenced to four months in jail Friday for kissing in public, the latest example of the majority Muslim country's ongoing crackdown on homosexuality.
The men were charged with "affront to public decency" and an "unnatural act with a person of the same sex," according to The International Business Times:
They were arrested June 5 after kissing in front of a well-known Rabat landmark, the Hassan Tower, according to i24 News, an international current affairs and news broadcast. Their kiss was a protest against the deportation of two French women for kissing while topless during protests earlier this in June.

In a photo posted June 2 to the Twitter account of FEMEN (above), a feminist protest group that organizes the topless protests, the two women are seen kissing outdoors in Rabat. They are also in front of the Hassan Tower.
In a post on its Facebook page, the Moroccan LGBT group Aswat Collective responded to the sentences:
"These men will be spending the next months behind bars, for what? For being gay. Wanting to love, wanting to live, is unacceptable for our State, in our country. We are outraged by this injustice. We will rise against Article 489 until the last breath is driven out of our union. No to the criminalizing of homosexuality. No to the criminalizing of love. NO TO ARTICLE 489!"
Aswat Collective had gathered more than 75,000 signatures on a petition calling for the two men to be freed, along with others jailed for homosexuality.
BuzzFeed News has more on the recent crackdown in Morocco:
Moroccan authorities have reportedly arrested 20 people accused of homosexuality in Agadir, a coastal resort city in central Morocco, according to a statement sent late Thursday by the LGBT rights group the Aswat Collective. …

Aswat said that it has documented five additional arrests of people accused of homosexuality since February.

"The Moroccan authorities reaffirm their position through this campaign of oppression and arrests targeting homosexuals, while the country is having an intense debate relative to the decriminalization of homosexuality," the group said.
Back in May, three men were sentenced to three years in jail for engaging in homosexual sex. And last year, a 69-year-old gay man from Great Britain spent 19 days in a Moroccan jail, which he later compared to a concentration camp, for having a relationship with a Moroccan man.
Earlier this month, a Moroccan magazine pulled an edition from the shelves (right) featuring a cover photo of two men gazing into each other's eyes at a swimming pool, with the headline, "Should homosexuals be burned?"