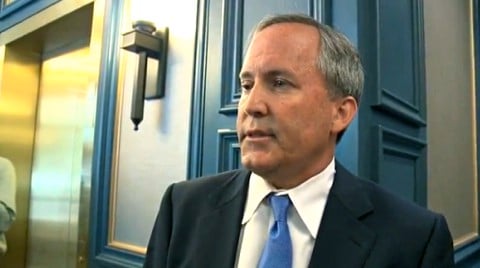 Last month we told you how Republican Texas Attorney General Ken Paxton (above), in an interview on CNN, wouldn't say how he'll respond if the U.S. Supreme Court rules in favor of marriage equality.
And Paxton, who's rabidly anti-gay, still isn't really showing his hand. However, in an interview with Austin's KVUE-TV, he did suggest that state officials will do "everything we can" to defend Texas' anti-gay marriage amendment:
"It's very difficult for us to say what's going to happen given the fact that we don't know what the result is and we don't know how that opinion is going to be written," Paxton said.

When asked whether he intends to fight the ruling, Paxton reiterated that such a decision would depend upon the ruling. "Obviously we have a constitution that protects the definition of marriage, and we'll do everything we can."
Paxton was among officials from 14 states who filed a brief at the U.S. Supreme Court opposing same-sex marriage.
"To resolve it instead through federal judicial decree would demean the democratic process, marginalize the views of millions of Americans and do incalculable damage to our civic life in this country," the brief states.
Paxton also recently filed a lawsuit seeking to block gay workers from taking unpaid leave to care for their sick spouses. And in February, after a lesbian couple married in Austin, Paxton obtained an emergency order from the Texas Supreme Court halting additional same-sex weddings.
Meanwhile, a special prosecutor recently completed his investigation into security violations to which Paxton admitted last year, and will present his findings to a grand jury next month, according to The Dallas Morning News.
Given Paxton's apparent penchant for lawlessness, it wouldn't be surprising to see him try to defy the high court.
And while Paxton would of course ultimately lose, the mere possibility of such a spectacle likely has the Texas business community cringing.
Listen to Paxton's comments on his state's then proposed anti-gay bills last month, below: