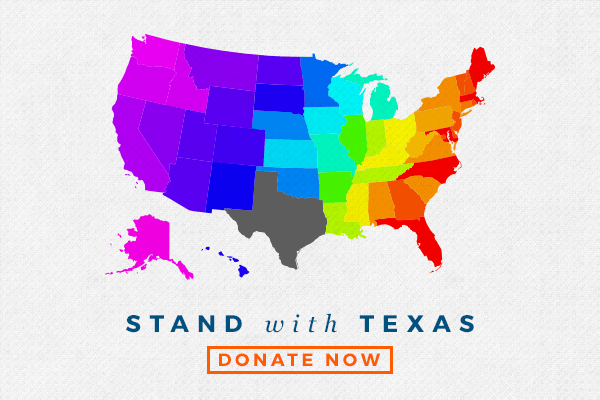 Texas Lt. Gov. Dan Patrick (right) wants to let county clerks, justices of the peace and judges refuse to participate in same-sex marriages based on religious beliefs.
In a statement issued Friday afternoon, Patrick said he's asking Attorney General Ken Paxton to expand the so-called "Pastor Protection Act," which passed this year and merely reaffirms existing protections for clergy members who refuse to perform same-sex marriages.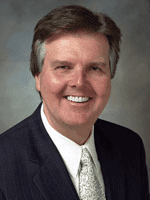 "My request broadens the scope of SB 2065 to include County Clerks, judges and Justices of the Peace who may be forced to issue a marriage license or preside over a wedding that is against the free exercise of their religion as guaranteed by the First Amendment," Patrick said. "It has been said that those who oppose gay marriage are on the wrong side of history. I would rather be on the wrong side of history than on the wrong side of my faith and my beliefs. I believe I am not alone in that view in this country."
As of Friday afternoon, clerks in 18 of Texas' 254 counties were issuing marriage licenses to same-sex couples, according to The Texas Observer. But anti-LGBT groups in the state were pledging to defy the Supreme Court's ruling, whatever that means.
Texas Values, led by Jonathan Saenz, whose ex-wife left him for a woman, called the high court's decision "the most egregious form of judicial activism of our time," and said it will only further divide America. The group said county clerks should wait for guidance from Paxton before issuing marriage licenses to same-sex couples, and alleged that altering application forms is a criminal offense.
"This decision has no basis in the text of the Constitution and will never be accepted by millions of Americans and Texans that understand that marriage, by nature and God's design, can only be the union of a man and woman, husband and wife, mother and father. No decision by five judges can ever alter this fundamental truth," Texas Values President Jonathan Saenz said in a statement.
The Texas Pastor Council also said the decision "violates the laws of nature and of nature's God," adding that the Supreme Court has "no jurisdiction to redefine or undefine an institution that preceded its own existence." The council reiterated its demand for Gov. Greg Abbott to call a special session of the Legislature to respond to the decision.
State Sen. Don Huffines (R-Dallas) also got in on the action, sending out a fundraising email (above) accompanied by a rainbow-colored map of the U.S., with Texas grayed out.
"If the federal government thinks that Texas is going to go down without a fight, they've got another thing coming," Huffines wrote. "We will continue to fight for our states' rights, but I cannot do this without your support."
Meanwhile, Gov. Greg Abbott is telling government employees it's OK to deny benefits to gay employees. The Houston Chronicle reports:
Hours after the U.S. Supreme Court legalized same sex marriage across the country on Friday, Texas Gov. Greg Abbott told his department directors to not take action against any state officials who act or refuse to act on account of their "sincere religious belief."

"This order applies to any agency decision, including but not limited to granting or denying benefits, managing agency employees, entering or enforcing agency contracts, licensing and permitting decisions, or enforcing state laws and regulations," Abbott wrote.
However, a spokesman for Abbott later told the Chronicle, "The Governor's directive does not authorize or order state agencies to deny benefits to same-sex couples. The directive ensures that individuals doing business with the state cannot be discriminated against because of their religious beliefs."
Watch video of the first same-sex couple to marry in Dallas — 85-year-old Jack Evans and 82-year-old George Harris, who've been together for 54 years — below.