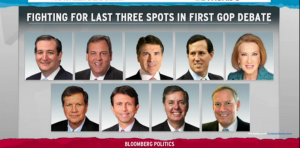 The first 2016 Republican Party presidential primary debate is less than a month away and the GOP long-shots have started their frantic pushing and shoving to secure one of the ten coveted spots on the anti-gay dais.
Politico reports:
Allies of at least four long-shot Republican presidential hopefuls are planning to blitz Iowa and New Hampshire with paid advertisements in the coming week with the hope of cutting through the clutter of a 17-candidate field.
The ads are being paid for by super PACs with one thing in common: The candidates they support are in danger of failing to qualify for the first presidential debate, scheduled for Aug. 6. The bet is that the ad buys will lead to a rise in poll numbers in one of the key early states. And that, in turn, is expected to help the candidates break through and generate enough positive news coverage to boost them into the top 10 — the threshold for earning a spot in the first debate. Even if they fall short of the goal, each candidate at least will have invested in a state that is central to his or her candidacy.
The four long-shot Republicans taking part in the ad blitz are Louisiana Gov. Bobby "Don't Waste Your Breathe Trying to Talk to Me About Anti-LGBT Discrimination" Jindal, former Texas Gov. Rick "Homosexuality = Alcoholism" Perry, Ohio Gov. John "I'll Go to a Gay Wedding, But I Won't Like It" Kasich, and former Hewlett-Packard CEO Carly "Tim Cook is a Hypocrite for Speaking Out Against Indiana's Religious Freedom Law" Fiorina.
Earlier this week, Rachel Maddow also discussed the GOP's jockeying, including Lindsey Graham's attempt to secure a spot at the first debate with some help from Hollywood hunk Brad Pitt.