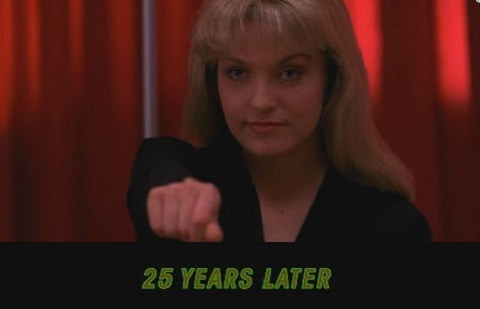 Fast becoming the longest tease in television history, Twin Peaks co-creator Mark Frost has suggested – sort of – that the long awaited revival of the show could be delayed until 2017.
Back in October, Frost and David Lynch announced series three on Twitter.
Dear Twitter Friends: That gum you like is going to come back in style! #damngoodcoffee

— David Lynch (@DAVID_LYNCH) October 3, 2014
Rumors later circulated that Lynch had pulled out of the revival but nobody really believed that.
Dear Twitter Friends, the rumors are not what they seem ….. It is !!!
Happening again. #TwinPeaks returns on @SHO_Network

— David Lynch (@DAVID_LYNCH) May 16, 2015
According to Digital Spy, Frost recently said:
"We're coming back with season three of Twin Peaks after a 25-year absence. We've finished the scripts, we start production in September, and that will be coming out on Showtime sometime in 2017."
A slip of the tongue or round two in what is likely to be a marketing campaign that will put Game of Thrones to shame?
Who knows, but Special Agent Cooper has promised an "amazing" season.
Watch Showtime's spooky teaser below.