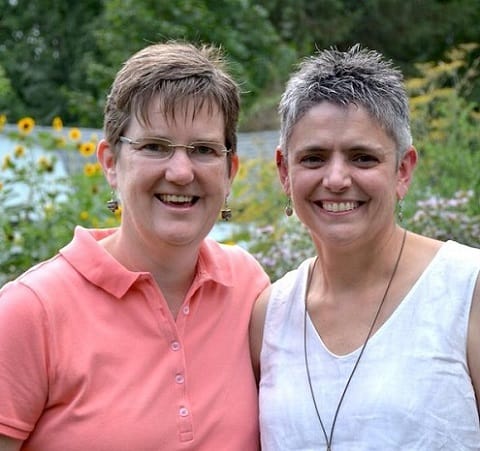 Fired for being gay, the former Director of Religious Education at Waldron Mercy Academy, Philadelphia, spoke to CNN last weekend about her intention to "raise awareness" of the anti-LGBT discrimination within the Catholic community.
Margie Winters (above left) – who was fired on June 22 following a complaint from a parent – appeared with her wife to explain that she does not intend to fight for her job or pursue legal action.
Waldron Mercy Academy hired Winters in 2007 knowing she is gay, and advised that she only speak of her partner with other staff members.
In the interview, she said:
"There was never a conflict with my job…The conflict is with the understanding of the teachings of the Church. For me it's a conflict of vision of who we are as Church…The marriage issue goes to who I am as a person, and who God made me as.
"When Christ walked the earth, he railed against the hierarchy for trying to exclude people, by using the laws of the faith at that time to exclude people. If that's not happening now, I don't know what else this is."
Around 200 Waldron Mercy families gathered on July 8th to show their support for Winters.
A Facebook page has since gained more than 11,000 likes and #StandWithMargie has been trending on Twitter.
@BarackObama do you #standwithmargie ?

— carrie santoro (@carrpakids) July 21, 2015
Winters and her wife hope to meet Pope Francis when he visits the United States in September.
Last week, we reported that despite protestations to the contrary, the local Archdiocese was very much involved in the school's decision to fire Winters.
Watch an interview with Winters below:
https://www.youtube.com/watch?v=T_2VIbN0OvM
(Image via Twitter)