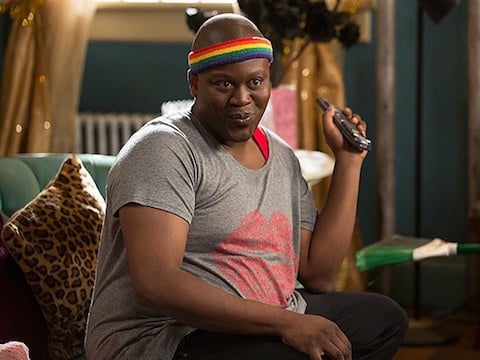 When the Emmy nominations were announced last week, we were particularly excited to see one name among the honorees: Tituss Burgess from the Netflix comedy Unbreakable Kimmy Schmidt.
As the wannabe Broadway star Titus Andromedon, Burgess steals nearly every scene he's in. It should come as no surprise that he knocks his performance out of the park, as the character was created by Tina Fey with Burgess in mind after his memorable guest spot as D'Fwan on her previous series, 30 Rock. But Burgess has a lot more in common with Andromedon than D'Fwan. Both are singers and actors, but real-life Tituss found much more success than his small-screen counterpart.
Debuting on Broadway in 2005 as Eddie in Good Vibrations, Burgess has had roles in Jersey Boys, Guys and Dolls and The Little Mermaid. Known for his powerful high tenor voice, the openly-gay Burgess has also released studio albums like Here's To You and Comfortable. The latter touched specifically on Burgess' sexuality. He talked about the importance of the track to The Huffington Post in 2012:
We're living in a time when people are no longer hiding their dislike for one another; in some cases, they're proud of their hatred. My young sisters and brothers in the LGBT community…they need assistance. As for myself, I had an easier time. My mom wasn't all peaches and cream about [my coming out], don't get me wrong, but I was put through college and I certainly wasn't kicked out of my home or anything. But I didn't grow up with my father in my house; I didn't have that type of structure…so I understand setbacks.

I receive emails [from young fans who tell me] they're so shocked I'm able to speak so candidly about my sexuality and my Christianity, and how I'm reconcile the two. It's funny, because they're thinking I'm courageous and I think there is no other way for me to have been. These young people need visibility and they need to see grown-ups who have it together living their lives.
Get to know Burgess a little better with some of our favorite clips below.
In 2007, Tituss Burgess originated the role of Sebastian the Crab in the Broadway production of The Little Mermaid. The stage adaptation of the beloved 1989 Disney film featured actors wearing Heelys, footwear with wheels built in, to create the illusion of moving underwater.
To get a sense of just how powerful Burgess' voice is, check out the clip above of the actor performing "And I Am Telling You I'm Not Going" from Dreamgirls at the eighth annual Broadway Backwards event, which raised more than $300,00 to benefit Broadway Cares/Equity Fights AIDS and the Lesbian, Gay, Bisexual and Transgender Community Center.
Burgess first made an impression as D'Fwan on 30 Rock. As the stylist of Angie Jordan (Sherri Shepherd), D'Fwan was a reality-TV caricature worthy of inclusion on any number of Bravo shows. His character even pulled a Bethenny Frankel, launching his signature beverage, D'Fwine. ("Please D'Fwink responsibly.")
These days, Burgess is the best thing about Netflix's Unbreakable Kimmy Schmidt (a series full of excellent performances, hilarious one-liners and lots of unexpected laughs). Just don't confuse the flamboyant Titus Andromedon for nothing more than a stereotype. As Burgess described to Out Magazine: "Well, [his sexuality is] kind of the least of the things they play up. It's more his entitlement, his delusional way of thinking, in terms of thinking he should be a star. It's more about the random situations he finds himself in. Titus is such a peculiar entity, which you'll see as the show goes on. This is not a show about… this is not Kimmy Has a Gay Best Friend. It's Titus Full-Throttle 3-D. And his sexual orientation is not a thing."
One of Kimmy Schmidt's most memorable gags is Andromedon's bid for pop-stardom. With nothing more than a rhyming dictionary and a song in his heart, Burgess' character creates quite possibly the best song ever written about caviar, Myanmar and so, so much more.
Are you a fan of Burgess?