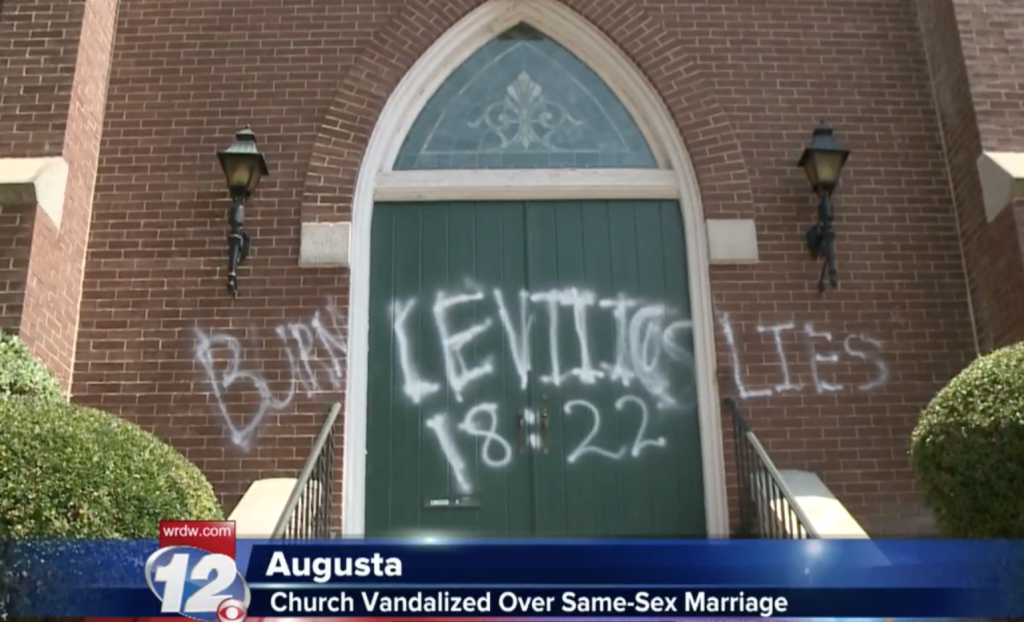 In the wake of the U.S. Supreme Court's ruling in favor same-sex marriage, one LGBT-affirming church in August, Georgia, has been featured in a number of local news stories.
In fact, the pastor of Metropolitan Community Church of Our Redeemer, Rick Sosbe, and his partner (right) were the first same-sex couple to receive a marriage license in Richmond County.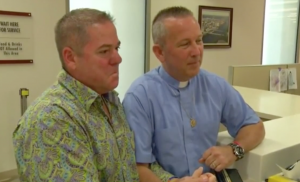 Now, the church is suffering major backlash in the form of two successive hate crimes which have escalated in intensity. After the church shootings in nearby South Carolina last month, it's hard not to fear for the safety of parishioners at pro-LGBT churches like these in conservative states.
In the latest incident, someone painted "burn" and "die" on the front door of the Augusta church, along with references to passages from the Book of Leviticus that are frequently cited by anti-gay bigots. They also spray-painted "You'll burn" on the steps of the church.
From The Augusta Chronicle:
The church's pastor, Rick Sosbe, said a church member texted him a picture of the vandalism as he was preparing to go to the church for his regular office duties.

"I was angry. I was very sad and I thought, 'Just why?' To me, it seems so interesting that they're saying on there that you'll burn – in other words saying 'You'll burn in hell,' I'm sure – and quoting scripture. Is that what Christianity – right-wing, fundamentalist Christianity – has come to?" he said.
Some told WJBF-TV:
"This clearly is a hate crime, based on the saying that we'll burn, and the scripture that they're referencing."
Unfortunately, Georgia doesn't have a hate crimes law that includes sexual orientation. In response to the incident, about 50 LGBT supporters staged a rally at the church, which also launched a GoFundMe page to pay for surveillance cameras. The page met its goal of $5,000 in just two days.
Two weeks before the graffiti incident, shortly after the marriage ruling, a rainbow flag was stolen from outside the church. From The Augusta Chronicle:
Sosbe said his church will continue to "spread the message of God's inclusive love" by welcoming all to worship, feeding the homeless and doing volunteer work in the community.

"Now is not the time to cower and back down," he said. "We're doing good in the community. We love God, and we're here to stay."
Watch WJBF's report below.