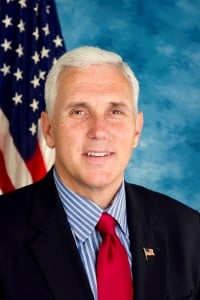 Indiana Governor Mike Pence likes to think his state's "difficult time" is over. After all, he weathered the state's "license to discriminate" backlash earlier this year with only one major interview trainwreck, made sure various states' travel bans to Indiana were rescinded before he took a European vacation, and managed the impressive feat of issuing a Pride proclamation without once mentioning LGBT people.
Now, Pence is pointing to his state's "strong" (read: slower than average) economic growth as justification for not moving forward with those LGBT non-discrimination protections that he hinted at in his releection announcement speech back in June.
The Times of Northwest Indiana reports:
When asked whether he views the need for an anti-discrimination law solely through an economic lens, the governor boasted that since he took office in 2013 more than 110,000 new jobs have been created, and Hoosier businesses this year already have promised to invest $3 billion in the state.
"I really do believe that we found a way through that difficult period last spring to calm the waters, and the facts speak for themselves: Indiana's economy is strong and growing stronger," Pence said.
"Hoosiers may be assured that I'm going to continue to advance the policies and the practices that are building on Indiana's story and telling Indiana's story."
Pence added "We're going to move forward on the policies that are making that a reality, and we'll leave debates about the future for the future."
At what point in the future do we get to debate whether Pence's abysmal approval ratings make him unfit for office?