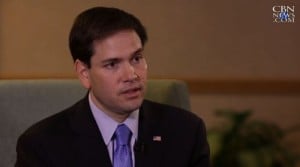 With eyes likely on the 2016 general election, GOP presidential candidate Marco Rubio has indicated that he opposes a constitutional amendment allowing states to ban same-sex marriage.
Bloomberg reports:
"I don't support a constitutional amendment. I don't believe the federal government should be in the marriage regulation business," the Florida senator told reporters after a speech the Cedar Rapids Country Club in Iowa.
"We can continue to disagree with it. Perhaps a future court will change that decision, in much the same way as it's changed other decisions in the past. But my opinion is unchanged, that marriage should continue to be defined as one man and one woman. The decision is what it is, and that's what we'll live under," he said.
Rubio added: "Irrespective of how one may feel about the definition of marriage, we're still all Americans."
Rubio previously said he had "mixed feelings" about a federal amendment to ban same-sex marriage. He recently told the Christian Broadcasting Network that it was "absurd" to think gays have a constitutional right to marry and that marriage equality is a "real and present danger" for Christians. On the other hand though, Rubio doesn't believe sexual orientation is a "choice".
Rubio's position differs from Wisconsin Gov. Scott Walker, who is reportedly talking both privately and publicly about choosing Rubio as his running-mate.