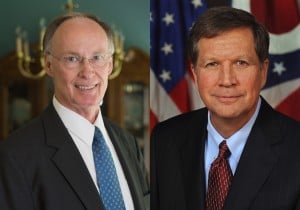 Alabama's two-term governor Robert Bentley is throwing his support behind John Kasich's bid for the White House, a somewhat surprising move considering Kasich's conciliatory campaign tone and Bently's record of marginalizing the LGBT community and anyone who isn't Christian.
Cleveland.com reports:
Bentley will announce he is endorsing Kasich on Monday during a joint appearance at the Alabama Sports Hall of Fame, according to details shared by Kasich's campaign. […]
Kasich's team sees Bentley's support as a sign of continued momentum on the heels of rising poll numbers in New Hampshire, which hosts the first primary, and an endorsement from that state's preeminent GOP strategist, Tom Rath.
The Kasich team also sees the Bentley endorsement as a sign of Kasich's growing appeal in a large field. Kasich's embrace of Medicaid expansion and his centrist views on issues such as immigration reform make him one of the more-moderate options in a primary where courting the conservative base is a key to victory.
A new Fox News poll finds John Kasich tying with Marco Rubio at 4% among GOP primary voters.