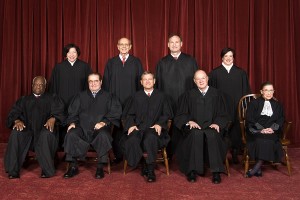 Rowan County clerk Kim Davis has failed in her efforts to get the highest court in the land to intervene in her anti-gay crusade.
The Supreme Court today turned down Davis's emergency request for a stay on a federal order calling on her to issue marriage licenses to same-sex couples. BuzzFeed's Chris Geidner reports Justice Elena Kagan, who handles such claims from the Sixth Circuit, referred the request to the full court.
#SCOTUS denies #KimDavis application for a stay pic.twitter.com/LDLzlmHVMd

— Equality Case Files (@EQCF) August 31, 2015
The stay on the federal order expired today. Davis has a big decision to make tomorrow, as Kentucky station WKYT notes: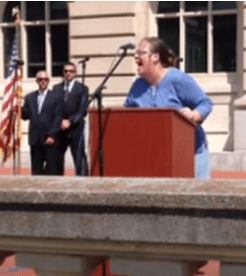 Davis will have to choose whether to issue marriage licenses Tuesday, defying her Christian conviction, or continue defying a federal judge who could fine her or send her to jail.
A gay couple who was denied a marriage license three times have filed a federal lawsuit against Davis, saying they were deprived of their "fundamental, Constitutional right to marry."
The lawsuit was filed Aug. 25 in U.S. District Court by William Smith Jr. and James Yates, but a summons was delivered Monday to Rowan County Judge Executive Walter Blevins, who is named as a defendant with Davis and the county. Other defendants, including Davis, were expected to be served this week, attorneys have told WKYT.
The AP adds:
"She's going to have to think and pray about her decision overnight. She certainly understands the consequences either way," Mat Staver, founder of the law firm representing Davis, said on Monday, hours before a court-ordered delay in the case expired. "She'll report to work tomorrow, and face whatever she has to face."
The Rowan County Attorney's Office has already filed a charge of official misconduct against Davis.