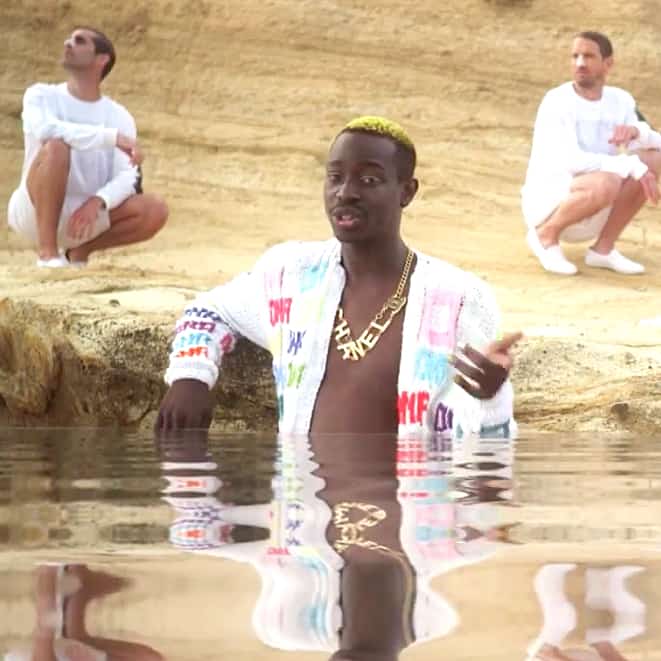 The first single from Le1f's forthcoming album Riot Boi is called "Koi" and it's produced by electronic music artist SOPHIE (aka Samuel Long) who you'll know from his hits "Bipp" and "Lemonade", known for sculpting his bubbly, fun sounds on a computer. SOPHIE provides backing vocals.
It's a brilliant collaboration. On the track Le1f sings about rejecting a guy's advances in a club. In the clip, directed by Simon Ward, Le1f raps through a hallucinatory landscape with a back-up crew and a group of confused-looking male models.
Co-starring a brightly-colored school of koi, a set of oversized bubbles, and a giant set of pink sequined lips.
Watch below: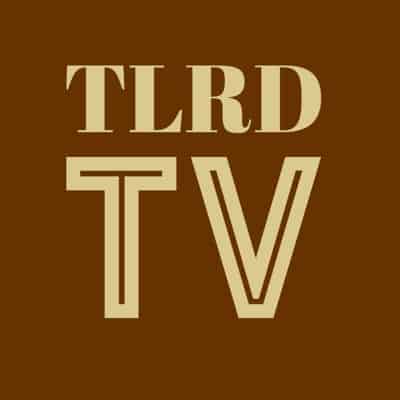 Lyrics:
[Verse 1]
Oh, wow
I think I am the hottest hottie at the party
Goddamn
Watch me shake that ass like a calabash
I see it in his eyes, he can't handle that
Thinking I'm the prize in his Cracker Jacks
I'm making him melt like candle-wax
He stepped to me at the bar
He said that he liked my hair
I didn't want to be rude
He was trying so hard
So I'm like, "whatever, sure
We can do these shots, why not
I'mma let you buy me these drinks, lots"
He's asking me where I live
And I'm like, "far away, mister, real real far"
I don't got time for that hullabaloo
I'm not laughing with you, I'm laughing at you
You should go back over there with your crew
But he's all, "nah, man, what we gon' do?"
You wanna dance but ain't got no rhythm
Tell me, how will this transition to kissing?
He's so smitten as if the plot thickens, nuh-uh
Read my lips
Listen, I'm sweet but I'm deadly
Just like Coca-cola
I'm hotter than a hot spring
Hotter than Bikram yoga
We can try your luck, four leaf clover
If you ain't got no swag, then this conversation's over
[Chorus]
You wanna get to know me
Wanna be my homie
I came here to party
Not here for you, boy
You should watch what you're saying
Cause your mouth is crazy
Got me acting shady
And feeling real koi
You're trying so hard
And it really shows
You say I'm fit
I already know
I'm sorry I'm not really, but you and me will never be that's the way that it goes
[Verse 2]
I wanna kee
And I don't mean bumps
I mean keekee, I wanna shake my butt
Chillin' in cuts
Sippin' these cups
Turn around for what?
Not you, bruh bruh
I kiss boys but it's just for stunts
I'm not giving them what they want
Nah, he's a dim-wit dunce
I'm a big city boy
And I'm real real c**t
You don't wanna have to be a primadonna
You got whack game, like lolz, oh my god
You should go away
Abracadabra
Princess Kitana
Kamekameha
You can't get up on my radar
I think you need to go to swag seminar
All up in my ear talkin' bla-zay blah
But I don't want none, nah
Dudes wanna holla, I'm skeptical
Cuz I'm really real
Like the best of all
I wanna know, can you let them good times roll
Like if I throw it in the air
Can you catch 'em all?
The ball's in my court, that's typical
Checking up on my physical
My aura, my vibe is so mystical
If you could bag me, that'd be a miracle
[Chorus]
You ain't catching nothing
But you keep throwing these lines out
I think you need to practice shutting your mouth
You swimming upstream just to get to me
But I don't think we have a chemistry
Koi, koi
I'm too koi for you boy
I'm koi
[Chorus]