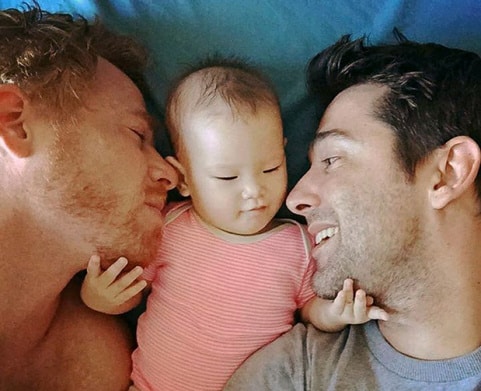 Last month we told you about the case of Gordon "Bud" Lake and his husband, Manuel Rivera, who are fighting to leave Thailand with their surrogate baby, Carmen.
The surrogate mother has refused to sign paperwork that would allow Carmen to leave the country, saying she didn't realize the couple was gay.
Now Lake and Rivera, who are living with Carmen in a secret location in Bangkok, face another obstacle as they prepare to take their case to court: A strict new law went into effect this week banning surrogacy in Thailand unless a couple has been married at least three years and one of them is a Thai citizen.
Because Thailand doesn't allow same-sex marriage, the law prohibits gay couples from having surrogate babies there, and it could be applied retroactively to Lake and Rivera's case.
The Bangkok Post reports:
A significant change in the law gives biological parents of a child born via surrogacy immediate parental rights in line with family and inheritance laws, Public Health Minister Rajata Rajatanavin said. Under the existing statute, a surrogate mother is considered the legal parent until consents to turning over the child. …

In an emotional interview on Channel 3 this week, Mr. Lake pleaded with the mother, identified only by her nickname Oy, to change her mind. He vowed not to leave Thailand without the child.

Ministry officials said Wednesday that biological parents of surrogate children born before the new law was passed can apply to have it applied to their case.
Although it could negatively impact Lake and Rivera, the law was actually drafted in response to the case of a straight Australian couple who abandoned a surrogate baby with Down's Syndrome and left the country with his healthy twin sister. The new law bans surrogacy for all foreigners, and says the biological mother must be a sibling of one of the parents.
Nevertheless, the law eliminates a popular destination for gay couples to have surrogate babies. An estimated 2,000 foreign couples travel to Thailand each year for that purpose, due to the country's established industry and first-rate medical facilities.
The Nation reports:
Yesterday, Public Health Minister Rajata Rajatanavin announced at a press conference that the move was aimed at controlling artificial fertilisation technology for couples with infertility and set up the legal status and regulations on surrogacy services, which had previously caused both moral and humanitarian problems such as surrogacy businesses or the neglect of children.

"Under the new act, foreign couples cannot seek the surrogacy service in Thailand. Homosexuals also are not allowed to receive the service because Thailand has not yet legalised same-sex marriage," he said. …

Public Health Ministry deputy permanent secretary Amnuay Gajeena said about 45 clinics provide surrogacy services in Thailand.

"Of them, six have already been shut down and the concerned persons arrested," Amnuay stated.

"Anyone who breaks this law will be punished with up to 10 years in jail or a fine not exceeding Bt200,000. The selling of sperm, ovum and embryo is also banned," he said.