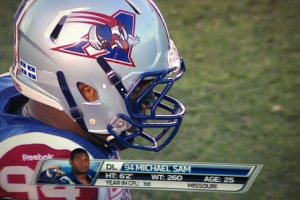 Michael Sam made history last night as the first openly gay professional football player to take the field in a regular season game.  The 25-year-old Montreal Alouettes defensive end entered the game late in the first quarter in the match-up against the Ottawa Redblacks.
Sam appeared in several plays throughout the remainder of the game but did not register a tackle or sack. The Alouettes lost the game 26-23.
The Canadian Press reports:
"I was focusing on my assignments, actually," Sam said when asked if he was thinking of the significance of the moment prior to kickoff.
"I'm not going to lie, there were some big jitters out there and I was nervous when I first got on the field. I didn't get any opportunities to make many plays. I had some good pass rushes I thought, but close enough is not a sack."
Sam, who signed a two-year contract with the Canadian Football League's Alouettes after failing to make the final cut on the NFL's Dallas Cowboys or St. Louis Rams, missed part of Montreal's training camp this summer to attend "personal matters."
A short time later, Sam's fiancé Vito Cammisano (engagement ring noticably absent) launched his own vlog.
Following Sam's debut, retired NBA player Jason Collins tweeted his support and desire to see Sam return to the NFL.
I hope he plays well because a spot with the @49ers just opened up at defensive end. #justsayin https://t.co/P3CWikuQKc

— Jason Collins (@jasoncollins98) August 7, 2015