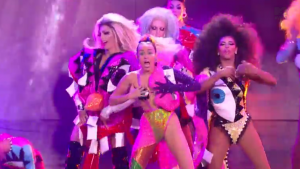 Miley Cyrus closed out the MTV Video Music Awards last night with a dragtastic performance of her brand-new song "Dooo It!" accompanied by the queens of RuPaul's Drag Race.
"People need to see every type of human being on that stage being celebrated, people that are outside of that box of what we're told," Cyrus said in an interview with MTV of the performance. "[For] people that watch the show — it's usually a lot of young people out there — you're at your most impressionable and it's where you learn when you're young, what's right and wrong, and how you treat other people."
"Dooo It!" is from Cyrus's surprise new album Miley Cyrus and Her Dead Petz which was announced at the end of the VMAs. You can check out the full album here.