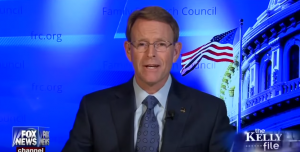 Family Research Council hate leader Tony Perkins appeared on Megyn Kelly's Fox News program yesterday to discuss the Josh Duggar cheating scandal and the impact it's having on the anti-gay movement.
Said Perkins of his former employee:
I am grieved and angered over Josh's choices and his actions. And this is a painful reminder and warning that living without integrity has destructive effects upon people that you care about and people that you love. And to those people who say lets just jettison this moral standard which is falling out of favor in our country today, you know people may not have a care for concern for a moral standard until they're hurt by those who fall short or break a moral standard.
Perkins went on to talk about there's "hope and healing" for people like Josh in the form of Jesus.
Perkins's interview apparently went over well with Donald Trump, who tweeted after the segment that he's with the hate leader "all the way!"
https://twitter.com/realdonaldtrump/status/637079959203397632
Thanks @realDonaldTrump. Look forward to seeing you at Values Voter Summit. #VVS15 https://t.co/pdpbFreatt

— Tony Perkins (@tperkins) August 28, 2015
You'll recall Trump was recently endorsed by ex- KKK Grand Wizard David Duke, who is an old buddy of Perkins.