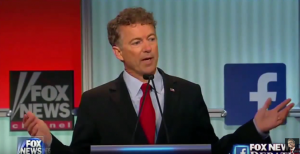 At the GOP presidential debate on Fox News last night, Sen. Rand Paul was asked a question from a Facebook user concerned about Christians being "prosecuted" for speaking out against same-sex marriage and being forced to do business with gay people.
Paul put a bit of his "libertarian" spin on his response, saying:
"Look I don't want my marriage or my guns registered in Washington. And if people have an opinion that's a religious opinion that's heartly felt obviously they should be able to practice that and no government should interfere with them."
Paul then turned to the ongoing controversy over Houston's LGBT non-discrimination ordinance:
What got to me was the thing in Houston where you had the mayor actually trying to get the sermons of ministers. When the government tries to invade the church and force its own opinion on marriage, that's when it's time to resist.
Actually Senator, the situation in Houston isn't about marriage, but anything to drum up some social conservative support right?
https://www.youtube.com/watch?v=4utykhli4mA