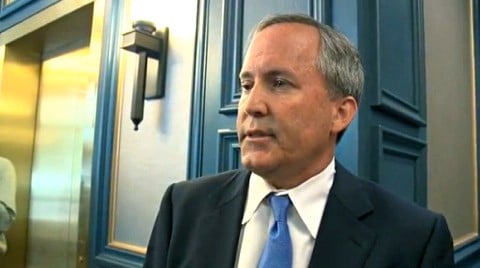 The other day we told you how, faced with the possibility of being held in contempt of court, Texas AG Ken Paxton (above) finally agreed to come up with guidelines for issuing accurate birth and death certificates to same-sex couples.
Now, the Department of State Health Services has released those proposed guidelines, and assuming they're signed off on by U.S. District Judge Orlando Garcia (below right), the new rules will amount to a slam-dunk victory for same-sex couples.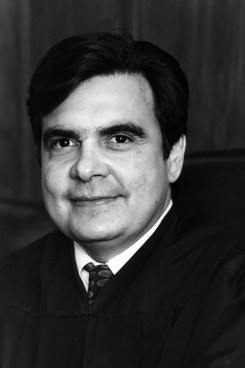 In a court filing Wednesday, the state health agency said it will immediately begin issuing accurate death certificates to gay widows and lesbian widowers who were legally married in Texas or another state. When it comes to birth certificates for same-sex couples, the state is still waiting on software updates. However, in the meantime, it will give them the option of receiving birth certificates that say "mother" and "father" and later obtaining amended ones, or waiting for the software updates. The state will also issue accurate supplementary birth certificates to same-sex couples with adopted children, which has been a major issue in recent years. And all of the changes will apply retroactively to anyone who was married in another state or legally adopted children prior to the U.S. Supreme Court's ruling in Obergefell v. Hodges.
"It's a win across the board," Lambda Legal senior counsel Ken Upton Jr. told me.
Garcia had given the state a deadline of Aug. 24 to come up with the proposed guidelines, after officials refused for 40 days to issue an accurate death certificate to gay widower John Stone-Hoskins, who is now terminally ill.
The state only relented after Garcia scheduled a hearing to determine whether Paxton and Kirk Cole, interim commissioner of the state health agency, should be held in contempt of court for violating his order enjoining them from enforcing the state's same-sex marriage ban.
A hearing is now scheduled for Sept. 10 to ensure the state is implementing the revised policies.Read the state health agency's court filing below.
Click HERE and LIKE our page on Facebook. Select "get notifications" in pulldown menu to receive our headlines in your feed.
DSHS Recommendations by John Wright
https://www.scribd.com/doc/274389686/DSHS-Recommendations