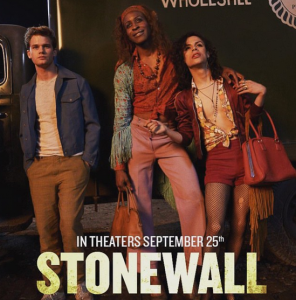 Actor Jeremy Irvine, who plays the lead role in Roland Emmerich's upcoming film Stonewall, has taken to Instagram to defend the project against accusations that it downplays the role role drag queens, the transgender community, and people of color played in the 1969 Greenwich Village riots.
To anyone with concerns about the diversity of the #StonewallMovie. I saw the movie for the first time last week and can assure you all that it represents almost every race and section of society that was so fundamental to one of the most important civil rights movements in living history. Marsha P Johnson is a major part of the movie, and although first hand accounts of who threw the first brick in the riots vary wildly, it is a fictional black transvestite character played by the very talented @vlad_alexis who pulls out the first brick in the riot scenes. My character is adopted by a group of street kids whilst sleeping rough in New York. In my opinion, the story is driven by the leader of this gang played by @jonnybeauchamp who gives an extraordinary performance as a Puerto Rican transvestite struggling to survive on the streets. Jonathan Rhys Meyers' character represents the Mattachine Society, who were at the time a mostly white and middle class gay rights group who stood against violence and radicalism. I felt incredibly nervous taking on this role knowing how important the subject matter is to so many people but Roland Emmerich is one of the most sensitive and heartfelt directors I've worked with and I hope that, as an ensemble, we have not only done such an important story justice but also made a good movie as well.
Jeremy
Jon Robin Baitz, the film's writer, has also spoken out in defense of the project, writing on Facebook:
I have tremendous respect for Roland Emmerich, for producing and directing and paying for a movie which no studio would give a cent to. Including the studios he has made a great deal of money for. I admire his reach and ambition, and his intentions, which are utterly uncynical, totally honorable. His film making skills are realized here to a degree we have not seen before, and his sole goal was to honor the heroes of that time. AND I also have tremendous empathy for those who think they are being erased, removed and made once more invisible. I really do not think that's what this movie is, and as I say below, I could be blind, because when you make a film, the chaos, the uncertainty, the conditions 'on the ground' can lead to a kind of 'snow blindness' to use an ironic phrase. But such an erasure would be heart breaking to me, as a man of principle, who tries to grow wiser and broader in my vision of what the world should be. The movie is about an awakening, one young man's awakening to the reality of what it means to be 'the other'. It is not the definitive story of a revolution; that film has yet to be made – but its a humanist's dramatization of how the disenfranchised are empowered by rage, and it traces a point in an arc towards justice that began with the Mattachine Society, continued through the bravery of a group of psychiatrists who refused to accept the pathologizing of homosexuality, and continues today with the fight for marriage equality and is now starting to focus on trans rights. It's a point on an arc, a moment, a story — the prejudgements are understandable to me, and there's not much I can do except be honest about my role in making the movie, and our intentions. I don't think the film needs defending, really, but I am reminded of Jesse Jackson's words, when reflecting on some of his mistakes: To quote: — "My head – so limited in its finitude; my heart, which is boundless in its love for the human family. I am not a perfect servant. I am a public servant doing my best against the odds. As I develop and serve, be patient. God is not finished with me yet…" I stand before people who are angered by a film they have yet to see, and ask that their open hearts allow that the film be judged on its own merits, and not by the demands of a marketing department, because marketing is based entirely in fear, whereas art is based in rage and hope and fire.