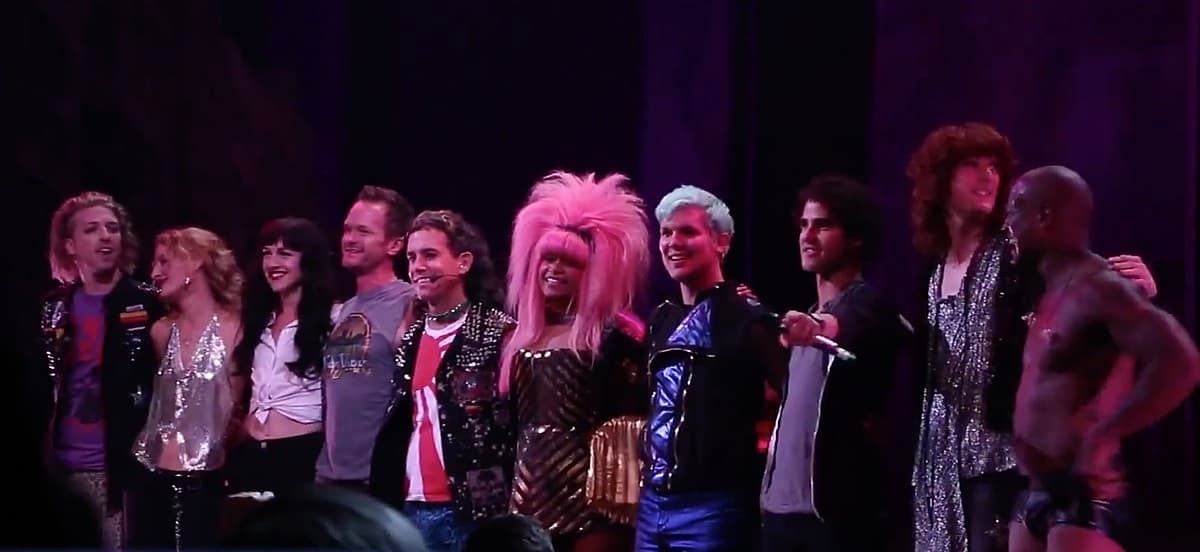 Hedwig and the Angry Inch, the Tony Award-winning musical about an East German transgender rock star with a botched sex change, closed last night on Broadway.
Director Michael Mayer, producer David Binder, and Stephen Trask who wrote the music and lyrics joined past Hedwigs Neil Patrick Harris, Darren Criss and the latest Hedwig, Taye Diggs on stage for an emotional good-bye.
Said Trask: "Most of all, thank you David Binder, the most exciting producer working on Broadway. And of course, here's to Neil, and Andrew, and Michael, and Darren, and Taye, and Steven and Lena…As this production goes across the globe, lift up your hands JCM (originator John Cameron Mitchell)."
One of Hedwig's great achievements — its charitable contributions via ticket sales to LGBT youth and AIDS organizations — was also touted by Binder.
Said Binder: "We thought we were going to do 16 weeks but we did 76 weeks. And we thought we were going to do 112 performances and this is the 529th. We've raised over a million dollars for Hetrick Martin and Broadway Cares.
Finally, the cast and the theatre joined together in a final performance of the classic tune "Wig in a Box".
Watch the moment below: