> Pope Francis hints at church's opposition to same-sex marriage in address to Congress: "I cannot hide my concern for the family, which is threatened, perhaps as never before, from within and without. Fundamental relationships are being called into question, as is the very basis of marriage and the family. I can only reiterate the importance and, above all, the richness and the beauty of family life."
> PETA sues to give monkeys the rights to selfie photos.
> Stroller Rage on the streets of Brooklyn!
> Michael Sam to become commentator for Missouri football after enrolling in grad school to further his education: "It's been a roller coaster," Sam said. "I've been trying to figure out what's next in my life. I've just come to a conclusion, as I take this break from football, I want to focus on my media training." Sam says he will train to stay in shape and hopes to make the 2016 NFL roster.
> Rosie O'Donnell's estranged wife Michelle Rounds sent to hospital following suicide attempt: report.
> Hillary Clinton answers Lena Dunham's questions.
> Jamie Dornan on all fours in a swimsuit in Ibiza.
> Daniel Day Lewis is a silver fox.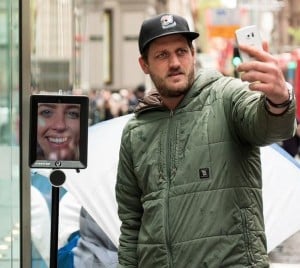 > Robot waits in line for iPhone 6S outside Apple store in Sydney: "Yes, a robot is waiting in line to buy another robot."
> Bisexual leaders convene at the White House: "As I have learned through my work at HRC, the bisexual community is comprised of many deeply damaged and amazingly resilient people. We are survivors of trauma, abuse and marginalization."
> Police in Maryland fatally shot a man after he imitated a gun with his fingers.
> Artist creates tweet-activated rainbow filled with liquid to raise awareness about gay blood donation ban: "People who tweet  #PutRedBack campaign trigger a single drop of red coloured liquid into the clear part of the rainbow. The activity has been created as part of some pro bono work for charity Freedom to Donate and aims to raise awareness of the restrictions on gay men donating blood."
> Kenan and Kel reunite for a Good Burger sketch.
> Zac Efron is shirtless and pumped up for Bad Neighbors 2.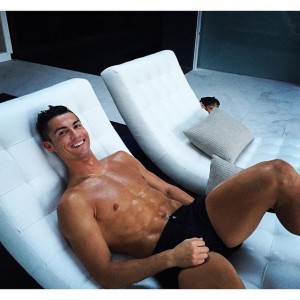 > This is how Cristiano Ronaldo relaxes.
> Antonin Scalia is still pissed about the Obergefell ruling: "On Tuesday, he called the same-sex marriage ruling "the furthest imaginable extension of the Supreme Court doing whatever it wants….Saying that the Constitution requires that practice, which is contrary to the religious beliefs of many of our citizens, I don't know how you can get more extreme than that,' he said. 'I worry about a Court that's headed in that direction.'"
>Government of Bermuda to hold information sessions on same-sex marriage. "We want to encourage community engagement and dialogue around the subject. It is important after reviewing the research about what other countries have done that we, in Bermuda, have frank and honest dialogue about same sex marriage."