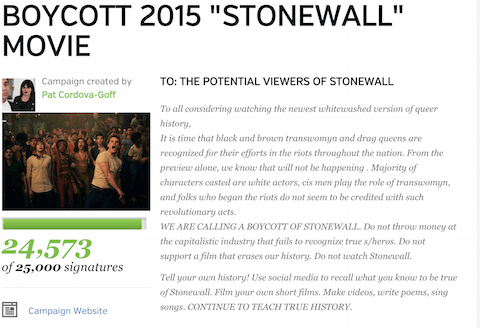 The Gay-Straight Alliance Network called for a boycott this week of Director Roland Emmerich's Stonewall, saying the film marginalizes and outright omits the role of LGBT people of color in the historic 1969 protest that definitively launched the LGBT rights movement, reports The Wrap.
Write the petitioners:
OUR HISTORY WILL NOT BE WHITE/CIS-WASHED.
History classes throughout our nation have built a reputation of instructing young generations that white, straight, cis folks are the saviors and founders of this land. Wrong. We were taught that light-skinned people are the goal; the goal to assimilate to. Wrong. We were also rarely taught about queer history, but when we were, it probably revolved around white cis gay men. Wrong.
The president of BiNet USA, a bisexual advocacy group, has critiqued the film's whitewashing of those who were actually present at Stonewall. Transgender pioneer and Stonewall veteran Miss Major Griffin-Gracy gave a scathing critique about the film's choice of a white male lead:
"I'm, sorry, the boy's not Tarzan. He didn't run into the jungle and rescue us from the lion's den, so why even do this? Why not just tell it like it was or leave it alone? You want to call it whitewashing, that's fine. I call it lying."
Emmerich, who is gay, has defended the film, saying it properly honors Stonewall heroes Marsha P. Johnson, Ray Castro and Sylvia Rivera however, Emmerich's recent comments about why he made the main character white and straight-acting have only served to further fuel critical concerns about the film:
"You have to understand one thing: I didn't make this movie only for gay people, I made it also for straight people. I kind of found out, in the testing process, that actually, for straight people, [Danny] is a very easy in. Danny's very straight-acting. He gets mistreated because of that. [Straight audiences] can feel for him."
Actor Jeremy Irvine, who plays fictional Stonewall lead character Danny, came to the defense of the film in August saying it accurately represents "every race and section of society," and that one of the other fictional-lead characters is a "Puerto Rican transvestite."
A petition to boycott the film has received nearly 25,000 signatures.