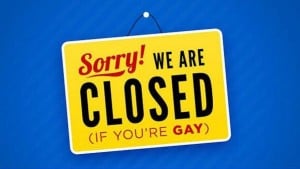 All four magistrates in McDowell County, North Carolina are taking advantage of the state's new "religious freedom" law to avoid having to perform same-sex marriages.
ABC News 13 reports:
A supervising judge confirmed to News 13 on Thursday that four workers in the office – Hilary Hollified, Thomas Atkinson, Debbie Terrell and Chad Johnson – have recused themselves under the North Carolina's religious exemption law.
The office has had an arrangement for approximately two months with other magistrates driving in to cover marriage services here.
A Rutherford County magistrate told News 13 he and another second magistrate have been driving a half hour back and forth three times a week to cover duties.
"Every single one has said they will opt out and won't do the marriages."
Back in June, the state legislature voted to override Gov. Pat McCrory's veto of the anti-gay marriage recusal measure.
Said McCrory when he vetoed the bill:
"I recognize that for many North Carolinians, including myself, opinions on same-sex marriage come from sincerely held religious beliefs that marriage is between a man and a woman. However, we are a nation and a state of laws. Whether it is the president, governor, mayor, a law enforcement officer, or magistrate, no public official who voluntarily swears to support and defend the Constitution and to discharge all duties of their office should be exempt from upholding that oath…"