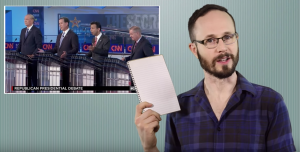 Writer Matt Baume has a new video out that takes a look at how the GOP candidates handled the "Kim Davis question" at both of the presidential debates last night.
As we reported previously, candidate answers varied widely, from "she should have been fired" to "she's like the Columbine victim who stood up for her faith."
Mike Huckabee, who stood by Davis at a rally when she was freed from the clink, had this to say:
"We made accommodations to the Fort Hood shooter, to let him grow a beard. We made accommodations to the detainees at Gitmo. I've been to Gitmo and I've seen the accommodations that we made to the Muslim detainees who killed Americans. You're telling me that you cannot make an accommodation for an elected Democrat county clerk from Rowan County, Kentucky? What else is it other than the criminalization of her faith and the exaltation of everyone else who might be a Fort Hood shooter or a detainee at Gitmo?"
"Republicans know they can't get away with the kind of outright animus they used to," explained Baume. "So now they have to be crafty about signaling their disapproval of homosexuality. Now it's coded by referring to religious freedom or claiming that Christianity has been criminalized."
Like Matt Baume's informative videos? Click HERE and LIKE our page on Facebook. Select "get notifications" in pulldown menu to receive our headlines in your feed.