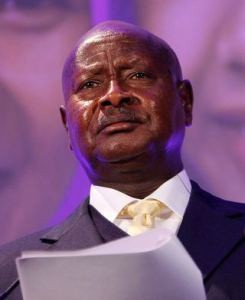 Speaking to reporters in Tokyo this weekend, Ugandan President Yoweri Museveni said the country's controversial anti-gay law last year was "not necessary" because British penal codes outlawing homosexuality are already on the country's books.
The Anti-Homosexuality Act was later thrown out by the Constitutional Court of Uganda over a technicality.
The Washington Blade reports:
State Department spokesperson John Kirby on Monday during his daily press briefing acknowledged to the Blade that he had seen Museveni's comments.
"We place great importance on the protection and promotion of the human rights and fundamental freedoms of all people, including lesbian, gay, bisexual, transgender, and intersex persons around the world," said Kirby. "No one should face violence or discrimination for who they are or whom they love. Human rights, as you know, remain, in our view, universal rights."
Kirby said that the department is "constantly evaluating" whether to restore U.S. aid to Uganda, which was partially cut off in June 2014 after the country's passage of the anti-gay law.
Last month, we told you about Uganda's plans to re-criminalize LGBT advocacy.