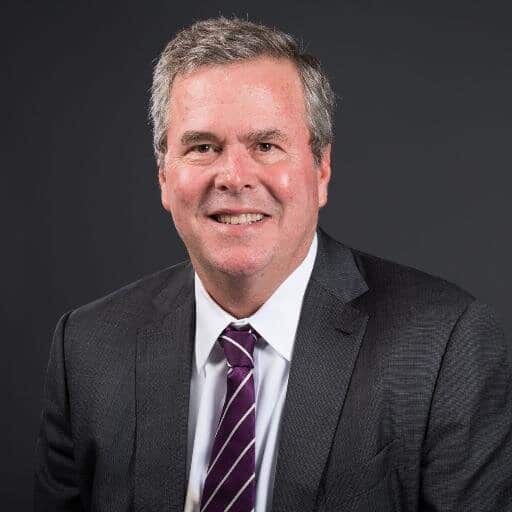 MIXNER'S 2016 ELECTION CENTRAL—
Republican strategist Karl Rove and Fox News chief Roger Ailes must be having one anxiety attack after another. For years they have individually believed themselves responsible for selecting the Republican nominee; Rove by raising hundreds of millions and Ailes by featuring them on his Fox Republican network. This year it appears the nomination is slipping out of their hands. No amount of toughness and money is going to be able to put all the king's men together again!
While much has been made of Hillary Clinton's falling poll numbers, few in the media have picked up on the 'big story' in the Republican primary — the collapse of the Republican establishment. Their prime piece of real estate — Jeb Bush — has almost disappeared from the radar screen. Clinton is still a very viable candidate while a man named Jeb is barely hanging on.
The latest polls are devastating for Bush.
The recent Washington Post/ABC national poll has Jeb Bush at an all time low of 8%. That is down from a high of 18% in July. He is currently just one point ahead of Ted Cruz and Marco Rubio. Let that soak in a bit. That's right. The 'Republican frontrunner at the beginning of this election is in the single digits and just keeps getting lower and lower.
The news from Iowa, New Hampshire and South Carolina is even worse!
In Iowa, Bush is now 8th in the polls with a mere 3% and tied with Rick Santorum! In New Hampshire, Bush is a lowly 6th place with 6%. In South Carolina he can only manage a measly 5% and is running behind Ted Cruz. This is a spectacular drop for the Republican Party's first family. Like the Democrats, many Republicans want change and are very angry. The thought of another Bush on the ticket is more than they can stand. They are supporting — by overwhelming numbers — outsiders like Donald Trump and Dr. Ben Carson.
Why?
In the Washington Post/ABC poll, 72% said they don't trust elected officials and over 64% said the entire system doesn't work any more. Bush is the symbol of more of the same! Even though Rove has raised over $100 million in SuperPAC money, it won't save Jeb. Trump has even declared war on Fox News. My, how times have changed.
Even the most junior of marketing executives knows that no amount of money can sell someone 'nothing'. In fact, the money is drying up. Horror of horrors, it was reported this week that for the first time in two years Jeb Bush has had to give up his private jet and is now flying commercial! What has happened to the powerful Kennebunkport clan?
Just as Democrats are beginning to wonder if Hillary can win in November, the Republican establishment is frantically looking for options. At first they turned to Wisconsin Governor Scott Walker who made more mistakes in a couple of months than Rick Perry in all the last election! Walker has fallen to a sad and lonely 2% in the national polls. Next they hoped that Marco Rubio would step forward to claim the mantle. Marco is nice but doesn't light up any intelligence charts. The man has followed four different religious denominations already at this stage in his life. Talk about a floating sense of values.
Finally, there might be hope for the establishment in the sane, practical, and fairly decent Ohio Governor John Kasich. He has avoided many of the pitfalls of the others while slowly building poll numbers. He is carefully avoiding being identified with any particular wing of the Republican Party including the establishment. It just might work for him if the momentum slows for Trump and Carson. His late entry might help him. Honestly, a Kasich/Rubio ticket would be an extremely tough one for the Democrats next fall.
There are a couple of other problems facing Bush as he attempts to reclaim the throne for his family.
Jeb Bush is boring and completely lacks charisma. He is the college professor who had interesting things to say in his lectures but puts you to sleep before you can take notes. He lacks the intelligence of his father, the Texas machismo of his brother George W, and the toughness of his mother Barbara!
He's a nice guy who seems to be filling a dynastic family duty more than running for President of the United States.
Fasten your seat belts Karl and Roger, it is going to be a bumpy ride.