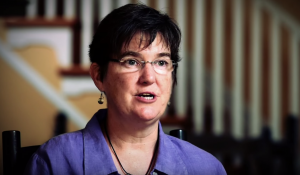 President Obama's LGBT-inclusive welcoming ceremony for the papal visit this week will include a Catholic educator fired for being gay.
Margie Winters, the former Director of Religious Education at Waldron Mercy Academy, Philadelphia, was fired back in June following a complaint from a parent.
The Associated Press reports Winters "hopes to get a chance to speak to the pope" and would like to ask him to "extend his message of inclusion to gay, lesbian, bisexual and transgender Catholics."
Winters said she was invited to the ceremony by the Human Rights Campaign. Her story was recently highlighted in an HRC video series ahead of the Pope's visit.
The news comes as White House Press Secretary Josh Earnest brushed aside reports that the Vatican was irked by Obama's LGBT-inclusive delegation.
"I will say there was no theological test that was administered prior to giving out tickets to stand on the South Lawn Wednesday morning," Earnest said at a press conference yesterday. "I think that he can speak more directly to the perspective of Pope Francis when it comes to the ceremony, but I can tell you that the White House planned a ceremony that would ensure that Pope Francis would receive the kind of warm welcome that reflects the kind of warm feelings that 300 million Americans have about him and his leadership."