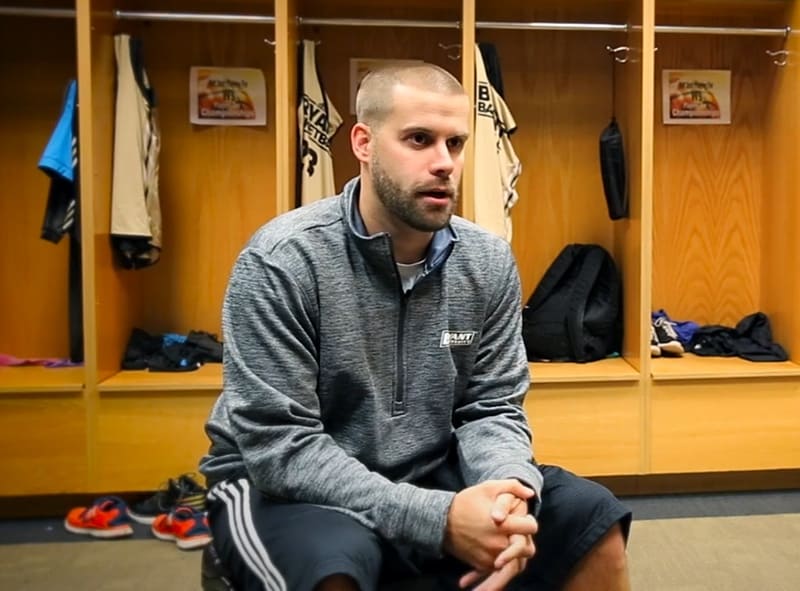 Chris Burns, the assistant men's basketball coach at Bryant University, has come out as gay, and is the nation's first Division 1 coach to do so.
USA Today Sports describes how he told his players:
"There are parts of this business that lead me to believe what I'm about to tell you is not acceptable here," the assistant coach says. "This is something I struggle with. It's made me consider giving up coaching. It's made me think I'm not supposed to be here."
Players are wide-eyed. Burns takes a deep breath.
"I'm a gay man," he says, at last.
He goes on to say he hopes none of this will affect the players negatively, that he wants it to unite them. Bryant's players surround him with hugs. They tell him they love him. He can exhale.
They add: "He opened up to his family first. He told head coach Tim O'Shea more than a year ago. In recent weeks he informed the rest of the coaching staff and key members of the Bryant athletics department. He confided in the team's three captains and then, days later, stood before the team."
But Burns has a larger story, and he tells it in a first-person piece over at Outsports:.
Burns describes how Anthony Nicodemo, the Saunders High School basketball coach who came out as gay in 2013, became his boyfriend, while he was living in the "toxic" closet:
Slowly I became more comfortable with myself, and Anthony did as well. I felt both pressure and fear rise in me. All of those early years, just beginning to explore my sexuality, were filled with a bit of denial – As comfort rose I realized someday I would have to embrace and accept that this is who I am, and that I will need to be honest with people about it.
In those secretive years, I had grown accustomed to a lot of lying and deceiving. When you're lying to everyone about who your are at your core, lying about everything else gets easy. Those habits and behaviors were very toxic for every aspect of my life. Slowly, piece by piece, I became detached from everyone, including Anthony. I ran from everything that was real in my life to try and keep myself hidden.
That's what the closet does to you, and it did it to me in the worst way: Detaching from my family and my best friend.
Burns attended the Nike LGBT Sports Summit, and says it was that and the Supreme Court decision on marriage equality that finally propelled him to make the decision.
Read his full Outsports piece here and the USA Today piece here.
And here's a video interview from USA Today: