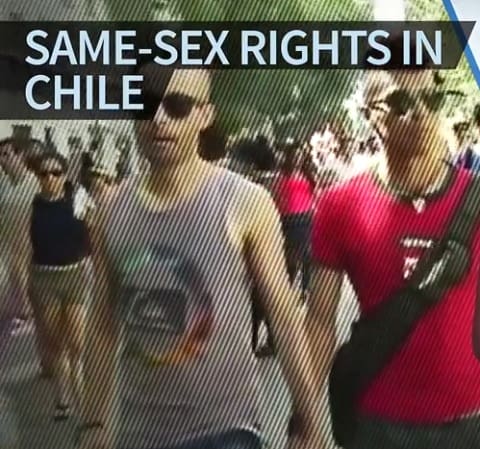 Despite religious protestations, same-sex civil unions will become law in Chile today.
In recent years, same-sex marriage has been legalized in Argentina, Brazil, Uruguay and some parts of Mexico.
The Guardian reports that although polls show only about 25 percent of Chileans support civil unions, there was broad cross-party support for the law which was first considered by center-left president Michelle Bachelet's predecessor Sebastián Piñera.
Welcoming the law at a signing ceremony earlier this week, Cecilia Perez, a minister in the Piñera administration, said "Independent of political colors and the governments in power, these are issues that are important for the country."
In 2004, Chile became the last country in the Western hemisphere to legalize divorce. It remains one of the few countries that still outlaw abortion in all cases.
Watch a NewsBeat Social report below.
https://www.youtube.com/watch?v=0rWHPJ1FV9w