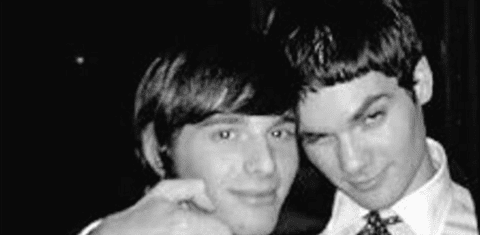 Actors Garrett Clayton and Keegan Allen are continuing to tease us with what we can expect from James Franco's upcoming gay murder movie, King Cobra.
Clayton posted the below photo on Instagram, showing him and Allen alongside the real-life people their characters are based on, gay adult film stars Brent Corrigan and Cuadra Harlow, respectively.
https://instagram.com/p/9RU8Q_rNRV/?taken-by=garrettclayton1
Harlow was one of the two convicted killers in the 2007 murder of gay adult film producer Bryan Kocis. He was sentenced to life in prison without the possibility of parole in 2009. Corrigan continued to work in the gay adult film industry. Court evidence from the trial suggests that Harlow and his partner-in-crime, Joseph Kerekes, murdered Kocis in hopes of luring Corrigan away from Kocis' Cobra Video production company.
What do you think of Clayton and Allen channeling these gay adult film stars?
UPDATE: First snap of Christian Slater and Clayton together on set.
https://instagram.com/p/9TzRJaLNaG/?taken-by=garrettclayton1