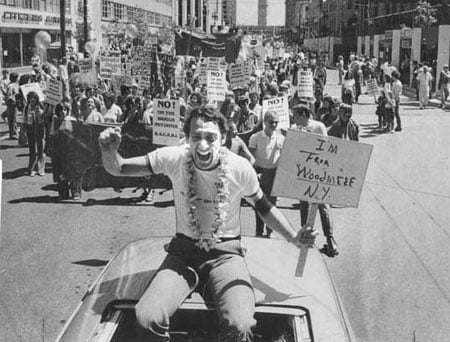 Salt Lake City officials are considering naming a street for gay rights pioneer Harvey Milk:
City officials say they have been working with LGBT leaders on the initiative, which would place Harvey Milk Boulevard near thoroughfares named for civil rights icons such as Martin Luther King Jr., Rosa Parks and Cesar Chavez.
If approved, the name would go on 900 South, about a mile and half from the headquarters of The Church of Jesus Christ of Latter-day Saints. Temple Square was the site of protests in 2008, after the Mormon church supported efforts to pass a short-lived gay marriage ban in California.
In 1977, Harvey Milk became the first openly gay official elected to the San Francisco Board of Supervisors. He would serve eleven courageous months before being brutally murdered at City Hall in a homophobic attack by supervisor Dan White, who had eluded metal detectors by climbing in through a basement window. White also murdered mayor George Moscone.
In a stunning sentence, White was convicted of two counts of involuntary manslaughter and sentenced to seven years and eight months. The main defense that White's lawyer gave was that he had eaten too much junk food the day of the murders which had somehow influenced his actions. It was labeled by critics as "the twinkie defense." White was paroled after six years and committed suicide soon after.
Milk had been paranoid about a threat of assassination because of his outspoken role in the community and his views on gay rights. On one of many audio tapes that was discovered after his death, on which he had recorded a will, he said:
"If a bullet should enter my brain, let that bullet destroy every closet door."