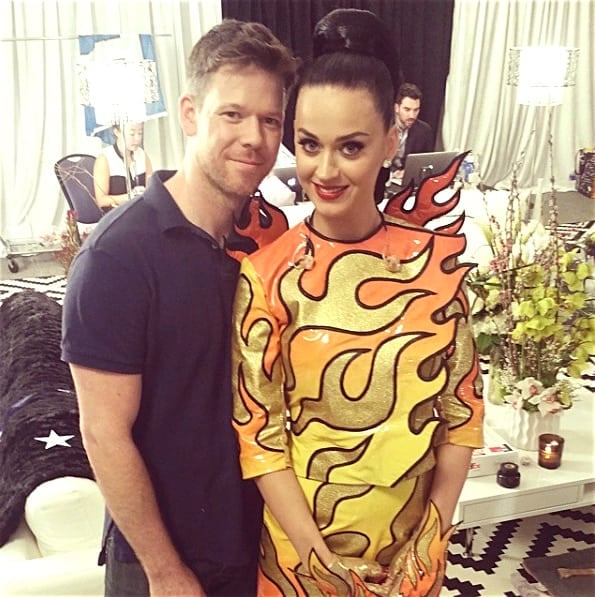 Yesterday we reported on the death of Jake Bailey, a celebrity makeup artist who created the looks for many of the biggest stars in music, film, and TV. Bailey was found dead in his Los Angeles home on Friday, of a presumed suicide.
Soon after the news broke, tributes began pouring out to Bailey across social media.
Among those he worked most closely with was Katy Perry, who wrote a touching note about Bailey and posted it to Instagram.
Wrote Perry:
Jake- My sweet, sensitive soul. What a wonderful journey and friendship we had together. What beautiful art we created together. We conquered the worlds biggest stages, together. I know you felt life so intensely and it created this incredible artistic passion in you that came out in everything you touched, from the amazing images you took to the ways you painted your muses, highlighting the beauty in everyone. You had the most otherworldly eye to detail… we would laugh about how you could take a nap in that eyelid crease you created (cause it was so deep) or Jake's 45 minute eyes… Which was such a precise lash that even Bambi couldn't rival.
You essentially created my "look" ever since we met on the music video for Hot and Cold. We always confided in each other, rallied each other at our lows and pushed each other to be our best. We never got comfortable and I know that was why we did the best work together. My favorite moments of recent times is when we would meditate together during breaks on different jobs…tune all the noise out, forget about hollywood and the chaos that surrounds it, and look for a slice of peace, 20 minutes at a time.
I know sometimes it was hard to find consistent happiness here on this earth, I understand you in that way. I want you to know now finally and forevermore that I appreciate you and all the lessons we traded each other in this life. I love you. No more work, no more searching, you are finally at peace. Every time I sit in that chair we shared, just know, no one holds a brush to you, friend. Be free now.
My prayers are with the Bailey family.
Paris Hilton, Emmy Rossum, Octavia Spencer, Ashley Benson, Charlie Puth, Maria Menounos, Jenna Dewan Tatum, AnnaLynne McCord, and Hailee Steinfeld were among those mourning Bailey's untimely death and paying respect to his career.
Read their messages below.
Paris Hilton:
https://twitter.com/emmyrossum/status/657655579016495104?ref_src=twsrc%5Etfw
is this RIP Jake Bailey real. Oh no! please tell me it's a twitter hoax.

— octavia spencer (@octaviaspencer) October 23, 2015
My thoughts and prayers are with those who knew and loved #JakeBailey.

— octavia spencer (@octaviaspencer) October 23, 2015
https://instagram.com/p/9MmKTThEOB/?taken-by=itsashbenzo
https://twitter.com/charlieputh/status/657705235411030016
Devastated to lose your beautiful light @byjakebailey -thank you for giving us beauty. #RIPJakeBailey pic.twitter.com/Hs5NUnU03t

— AnnaLynne McCord (@IAMannalynnemcc) October 23, 2015
Shocked&saddened that we lost @byjakebailey he's been doing my makeup for 10yrs!here on covershoot 4 @REDBOOK ugh pic.twitter.com/dNrGV0I8Pm

— MARIA MENOUNOS (@mariamenounos) October 23, 2015
I am absolutely devastated today by the passing of my dear friend @ByJakeBailey. The most loyal, beautiful soul in every way. I love you😓

— Jenna Dewan (@jennadewan) October 23, 2015
https://twitter.com/jennaldewan/status/657689767006502913https://twitter.com/jennaldewan/status/657734892659175425
Such an enormous talent. And great amazing human. https://t.co/6Dkvxo0gYD

— Jenna Dewan (@jennadewan) October 24, 2015
I am so incredibly sad over the passing of Jake Bailey. You meant so much to someone who means so much to me. You will be missed. ❤️👼🏼

— Hailee Steinfeld (@HaileeSteinfeld) October 24, 2015